Best Flooring for High Traffic Areas | 2022 Home Flooring Pros
What are High traffic flooring factors?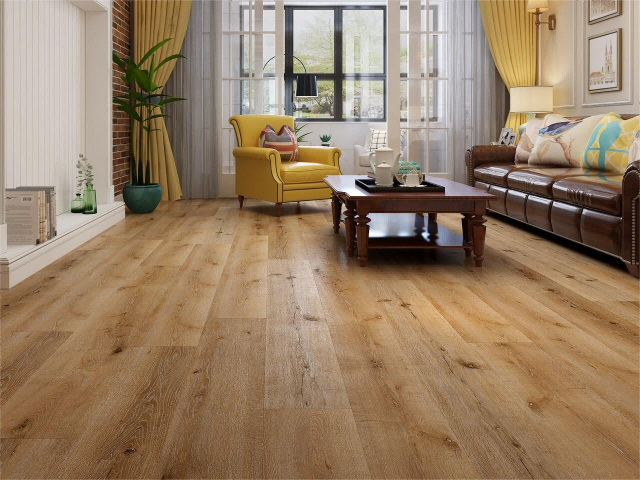 The flooring is the foundation for the rest of the room. It needs to be fashionable, easy to clean, and durable, especially in high-traffic areas throughout the home.
Understanding the differences in high-traffic flooring materials can help you determine which flooring option best suits the needs of your space.
We are going to share the three best flooring options for high-traffic areas but before we get into those, there are four important factors to consider aside from personal style preferences:
Durability
: Foot, paw, and other traffic will leave your floors with scratches and marks, so choosing a floor that is scratch & stain-resistant will help keep your floor looking new and not worn out.
Low Maintenance
: Regular cleaning will need to happen in high-traffic areas, so choosing something that is easy to clean and maintain will extend the life of your flooring.
Water Resistant or Waterproof
: Kitchens, entryways, mudrooms, and bathrooms are areas that are prone to moisture so waterproof or at the very least, water-resistant flooring is recommended. You don't have to worry about stains or warping!
Comfort & Warmth
: Choosing something that is soft and warm underfoot is important in the European climate. It is also important to think about the utility of the space.
3 types flooring for High traffic areas in home
Choosing the Best types of flooring for High traffic areas Depends on a Lot of Factors
There are 3 types of flooring recommended:
1. Laminate
With so many different flooring options available, it is easy to find an option that provides both style and durability. Keep it classic with a porcelain tile or utilize today's technologies by laying luxury vinyl flooring down in the home. Once you've determined the right type of product, choose a color and style that speaks to the overall aesthetic of the space. Give any hard flooring an added layer of protection in high-traffic areas by considering an area rug or runner near doorways.
Vinyl flooring is the best choice for high-traffic areas
However, if you have vinyl floors in your home, it's important to know that the extreme heat and humidity can cause your floors to lighten, cup and buckle.
Tip #1: Protect Your Floors from Sunlight
While there is no one "fix-all" solution, there are extra measures you can take to avoid fading or bleaching from overexposure to heat and sunlight.
or you can choose super stability SPC flooring, contact us for your Customized choice
Tip #2: Regulate Indoor Humidity Levels
Depending on where you live, summer can bring high humidity levels that can wreak havoc on your vinyl floors.
at hanflor lab, our QC team test more than 10 types of flooring products, Different floor types have different shrinkage rates, Shrinkage rate changes are closely related to local climate change, contact us and we will recommend the best choice in your country
Tip #3: Practice Proper Floor Maintenance
Summer typically means more traffic for your floors. Kids are out of school for summer vacation and hosting family gatherings become a common occurrence.
Chances are, you will find yourself cleaning your floors more than you are used to. For this reason, it is important to know the right way to keep your floors healthy and looking great.
We recommend ditching the dust mop and opting for a backpack vacuum cleaner instead. Dust mops and brooms can cause dirt and dust to settle in between the wooden boards and mopping with water-based products can deteriorate your floor's wood and finish.
For best results, use a backpack vacuum with a bare floor attachment at least once a week.
Expert Flooring Solutions in hanflor
Contact the flooring professionals at hanfor today and discover what our team of experienced vinyl flooring experts can do for you.
hanflor can help you pick out the perfect flooring surface for your home or office. We offer a wide variety of custom and brand-name flooring at affordable prices that fit your budget. No matter your flooring needs, your handler expert is here to help.
Why Choose hanflor?
We have complete certificates like:DIBT,ISO,
FLOORSCORE
,CE,SGS,TUV and product test report. Contact us for factory price quotation.
Hanflor-Vinyl Flooring Manufacturer
Well experienced for 20 years, we have established global trade in resilient vinyl flooring for commercial and residential use in over 50 regions. To simply put it, we make and sell realistic PVC flooring. Our goal is to supply you with quality resilient flooring products and make trading with China as easy as possible.
Our core principle is integration in our customer services and business solutions. That's the reason our training budget supersedes our marketing budget. Our upskilled team will assist you throughout your business decision