Why Is UV Coating Important for SPC Flooring?
What is UV Coating vinyl flooring?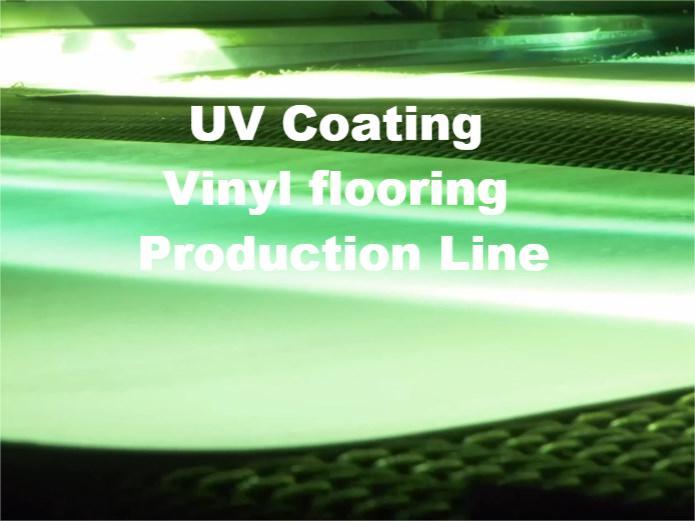 Do you know the UV coating of SPC vinyl flooring? let us know why UV coating is so important to SPC flooring!
UV coating is a very important and necessary process for SPC flooring (rigid vinyl planks).
UV Coating is a surface treatment that cures UV radiation and protects the underlying material from such radiation.
The main reasons for UV coating on SPC flooring are as follows:

Durability
: Enhance the surface wear resistance. The UV coating is another shield for the top layer of the SPC floor. It contains ceramic components to make the surface scratch-resistant.
Low Maintenance
: UV coatings are also primarily used to cover decorative films on SPC rigid core vinyl flooring to prevent fading in the sunlight near windows or any other indoor environment.
Surface Adjusted: The UV coating can adjust the gloss of the floor surface. The surface of the extruded floor is dull and uncomfortable, but after UV coating treatment, the degree of reflected light on the floor surface can be perfectly adjusted.
Comfort & Warmth
: Choosing something that is soft and warm underfoot is important in the European climate. It is also important to think about the utility of the space.
3 types UV Coating Vinyl flooring
If you need any information about UV Coating SPC Vinyl Flooring, feel free to contact us.
UV Coating SPC Vinyl Flooring
UV coating refers to a coating that is cured using UV radiation. UV curable coatings can be applied to ink printing and exposed to UV radiation. Its solid content can be as high as 100%, so there is no volatile component and no pollution to the environment. The high solids content also allows it to be applied to very thin films. UV curable coatings can also be applied to coated glass and plastic, wood, and aluminum beverage bottles.
The Characteristics Of UV Coating
Compared to general solvent-based coatings, the characteristics of UV coatings are as follows:
1. Fast curing speed
UV coatings are cured under UV photon irradiation (UV UV lamps), usually in about 1 second or less, allowing rapid continuous operation and greatly increasing production efficiency.
2. Normal temperature curing
Oligomers commonly used in UV coatings, such as epoxy acrylate, urethane acrylate, polyester acrylate, polyether acrylate, acrylate polyacrylic resin, unsaturated polyester, and various acrylate monofunctional groups Or polyfunctional monomers, which can initiate room temperature polymerization and cross-link by free radical photons under the action of ultraviolet photons, thus being particularly advantageous for the coating of heat-sensitive substrates such as wood, paper, and plastic.
3. Saving energy
UV coatings do not require heat drying, which saves energy by 75% to 90% compared to conventional hot dry coatings during construction.
4. Does not pollute the environment
UV coating is a solvent-free or solvent-free coating. VOC is volatilized into the atmosphere during film formation, and it does not pollute the environment. It is easy to meet the environmental regulations of the government or the legislature.
5. Improve product performance
The UV coating realizes the cross-linking polymerization between the components under the action of ultraviolet photons, rapidly solidifies the liquid into a film, and has a three-dimensional network structure, thereby improving the surface properties of the paint film, such as hardness, flexibility, and abrasion resistance. Scratch resistance, chemical resistance, high gloss, durability, etc.
Expert Flooring Solutions in hanflor
Contact the flooring professionals at hanfor today and discover what our team of experienced vinyl flooring experts can do for you.
hanflor can help you pick out the perfect flooring surface for your home or office. We offer a wide variety of custom and brand-name flooring at affordable prices that fit your budget. No matter your flooring needs, your handler expert is here to help.
Why Choose hanflor?
We have complete certificates like:DIBT,ISO,
FLOORSCORE
,CE,SGS,TUV and product test report. Contact us for factory price quotation.
Hanflor-Vinyl Flooring Manufacturer
Well experienced for 20 years, we have established global trade in resilient vinyl flooring for commercial and residential use in over 50 regions. To simply put it, we make and sell realistic PVC flooring. Our goal is to supply you with quality resilient flooring products and make trading with China as easy as possible.
Our core principle is integration in our customer services and business solutions. That's the reason our training budget supersedes our marketing budget. Our upskilled team will assist you throughout your business decision