Do i need pad under my vinyl plank ?
What is Underlayment work?
As an indispensable building material in flooring projects, there are two common ways of using the backing. One is to make a finished floor directly on the production line together with the floor (for example: SPC flooring with IXPE underlayment). This common bottom layer is about 1mm-2mm, and EVA floor mats and IXPE padding are commonly used.
The other is to lay the bottom back before installing the floor. This underlay is generally rolled, and the common material is PU foam, which is cheap and suitable for large-scale construction projects.
It can be installed under most types of grouted, glued, and floating floors, including ceramic tile, stone, marble, brick, pavers, hardwood, engineered wood, laminate, parquet, LVT, and carpet.
How to Choose best underlayment for vinyl flooring?
Choosing the Best Underlayment for Vinyl Flooring Depends on a Lot of Factors
The main things to consider are:
1. vinyl flooring type (sheet vs. plank, different types of cores, etc.)
2. installation style (floating, glue-down, etc.)
3. subflooring material (wood, concrete, etc.)
4. specifications of your specific product.
5. Your specific needs.
So: be absolutely sure to check with your flooring manufacturer and installer first. or contact us for direct consultation.
Data Sheets for Vinyl Flooring Underlayment
Installation Location

Basement; Bathroom; Kitchen; Garage; Living Spaces; Walls; Stairs; Outdoors;

Mudroom

Compatible Subfloor Types

Concrete; Tile; Vinyl; Plywood; Hardwood; Radiant Heat




Pre-attached Underlayment




Yes

Underlayment Moisture Barrier




Yes

R Rating

R9
STC (Sound Transmission Class): Quantifies the performance of a material or building partition to attenuate airborne sound. This roughly reflects the decibel reduction of building material or partition. Higher Numbers = Higher Performace.
IIC (Impact Insulation Class): Quantifies the performance of a material or building partition to attenuate impact sounds, such as footsteps. Higher Numbers = Higher Performace.
R Value: It is the capacity of an insulating material to resist heat flow. The higher the R-value, the greater the insulating power.
Comparison Of EVA And IXPE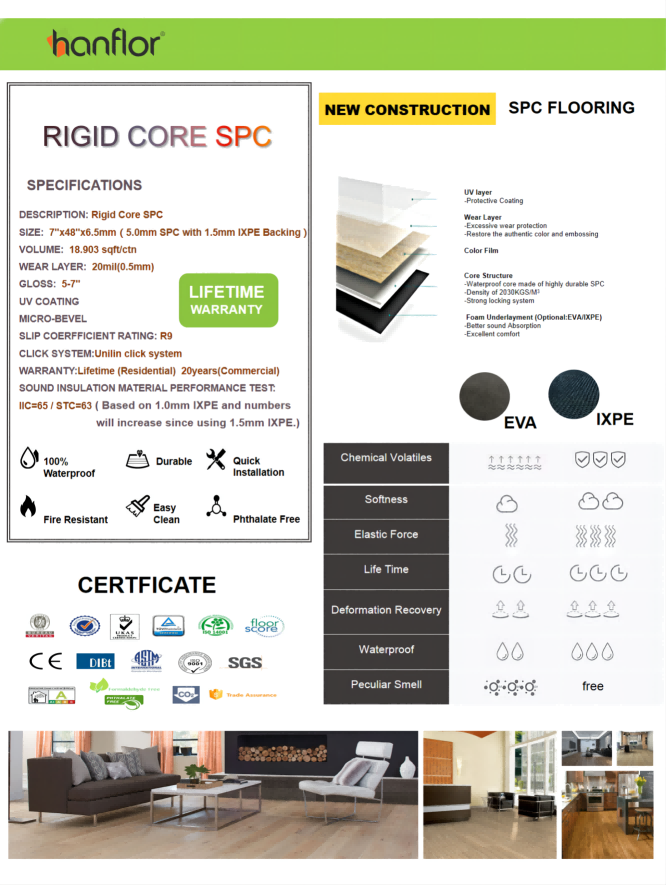 Vinyl flooring manufacturers
have incorporated a bottom lining under the surface of the floor plate to improve the noise resistance of SPC rigid flooring. In which, use of IXPE and EVA foam materials to make mute pads can play its role more fully. The material has the characteristics of environmental protection, flame retardant, insulation, waterproof, moisture resistance, shock absorption, aging resistance, easy processing and molding, no pollution, etc.
Is underlayment necessary for Rigid core SPC flooring?
Underlayment for SPC flooring is a must. Since SPC vinyl plank is a floating floor, it must be evenly distributed across your subfloor. Underlayment is what allows the floor to float, gives it stability, support, noise reduction, and supports the locking systems in between planks to assure the sturdiest flooring project.

Why Choose hanflor?
We have complete certificates like:DIBT,ISO,
FLOORSCORE
,CE,SGS,TUV and product test report. Contact us for factory price quotation.
Hanflor-Vinyl Flooring Manufacturer
Well experienced for 20 years, we have established global trade in resilient vinyl flooring for commercial and residential use in over 50 regions. To simply put it, we make and sell realistic PVC flooring. Our goal is to supply you with quality resilient flooring products and make trading with China as easy as possible.
Our core principle is integration in our customer services and business solutions. That's the reason our training budget supersedes our marketing budget. Our upskilled team will assist you throughout your business decision