What kind of flooring is best for kitchens?
Choosing the right floor for your kitchen that looks sharp and modern but still functions the way you need a kitchen floor to function.
What kind of flooring is best for kitchens?
All of Hanflor floorings are suitable for use in kitchens and easy to clean, so the type you choose will depend on the specific durability features you need and the look you want to achieve. A popular choice for kitchens, our resilient flooring is a versatile, economical option. Vinyl comes in a wide range of colors and patterns that mimic hardwood, ceramics, and stone. The surface's elasticity and warmth make it comfortable to stand on, and plates, cups, and glasses often won't break when dropped.
Hanflor vinyl features better textures and colors for a more realistic appearance, thanks to improvements in the rotogravure (engraving) process for the surface.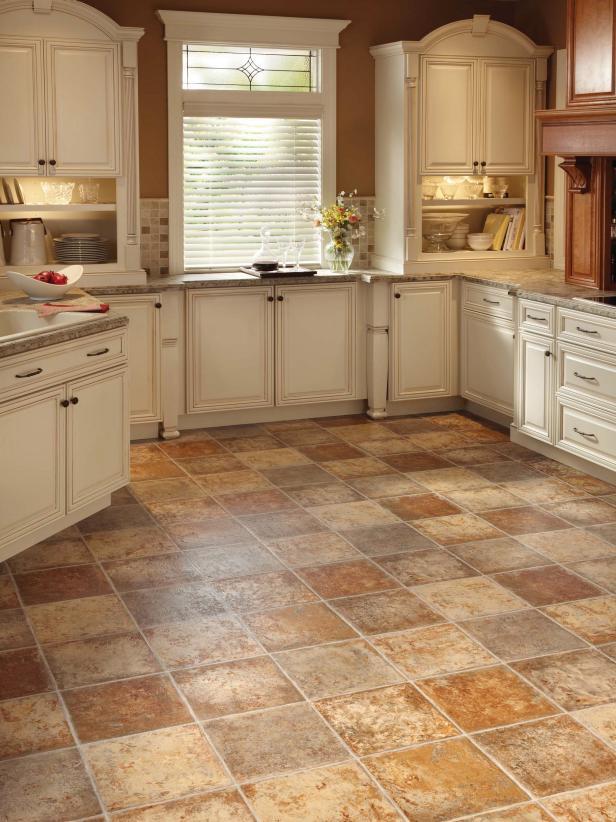 Vinyl is composed of four layers: a protective urethane topcoat, a protective clear vinyl layer, a printed design layer, and a felt or fiberglass backing.
Tough Enough? Vinyl is a durable surface that shouldn't stain, scratch, or fade. Vinyl—especially the luxury styles—can handle spills, kids, and pets with ease. May types are imbued with antimicrobial protection to fight bacteria, mold, and mildew.
How to Clean: Wipe up spills immediately. Sweep, dust, or vacuum regularly, and occasionally wipe the surface with a damp mop or cloth. For glossy floors, occasionally strip and reapply polish as necessary. Avoid waxing or buffing the surface.
What Makes Vinyl Great For Kitchens?
Kitchen-worthy durability features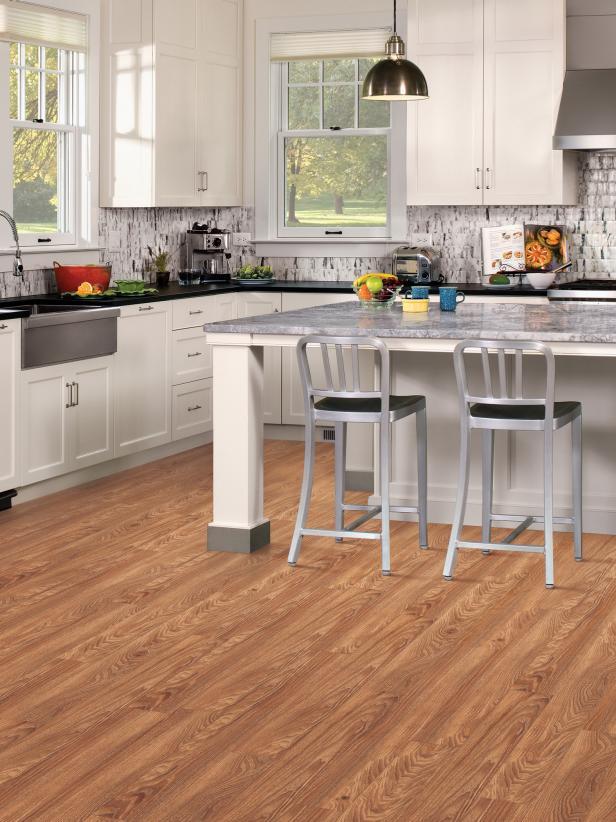 Waterproof:
Vinyl is a waterproof material that is impervious to penetration from moisture. With vinyl tiles, the seams between pieces will be weak points that will have to be sealed in order to prevent water from seeping down through them. This seal will wear down over time and will need to be reapplied periodically. All kitchen floors must be able to endure inevitable spills. You'll find the highest levels of water resistance in our luxury vinyl tile or rigid core collections. They are 100% waterproof, so planks won't swell, buckle, or lose integrity when exposed to water.
Price Points:
Cheap waterproof flooring. At $0.24 - $0.78 per square foot, vinyl is on the low end of the flooring price scale. This is particularly poignant because printing techniques often allow you to replicate the look of much more expensive materials.
Superior Scratch and Stain Resistance
All hanflor Flooring products provide the durability you need in your kitchen. Whether it is scratch and stain resistance, defense against dents, or water resistance, you can't go wrong with any of our collections.
Dropped dishes and heavy appliances can do a lot of damage on the wrong floors. Consider rigid core or engineered tile.
Many people love the look of stone, ceramic, or porcelain tile for the kitchen, but these floors are cold and hard. Hanflor stone look vinyl tile is an outstanding alternative that gives you the same natural look, but with a surface that's more forgiving underfoot, and not prone to cracking.
Considerations When Choosing Vinyl Flooring
Vinyl flooring comes in three basic forms.
Sheets.
Offer a seamless look and comes in a variety of colors, designs, and patterns.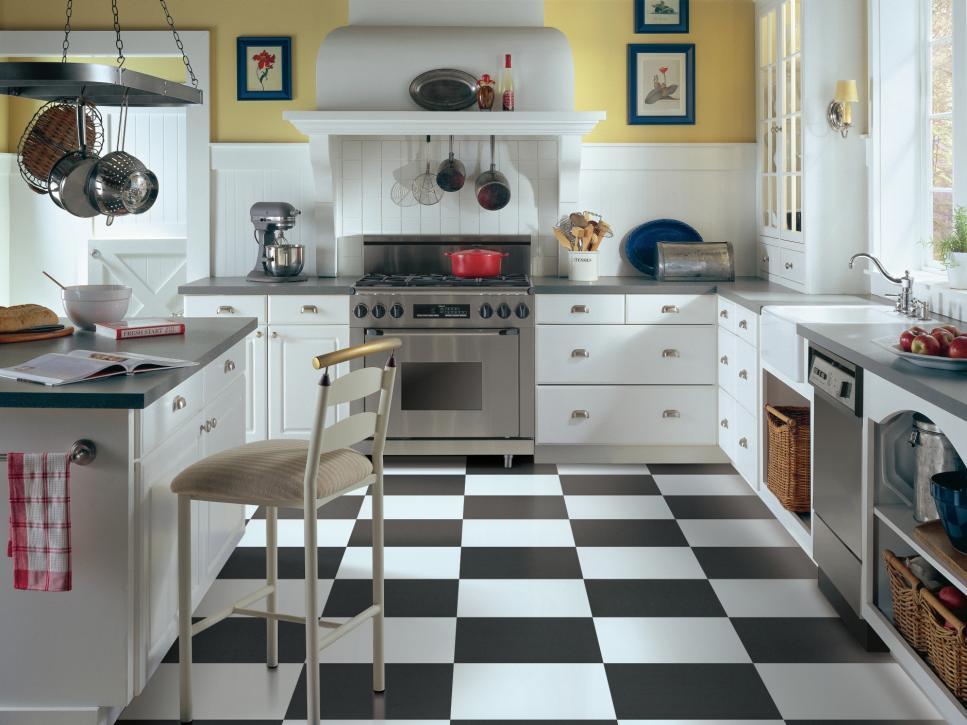 Tiles.
Emulate ceramics and can be arranged in any pattern. Some manufacturers now offer vinyl tiles that can be used with color-coordinated grout, making them look even more like tile. Grouted stone looks are also very popular in kitchens. Hanflor engineered tile offers the tile looks you want, while also providing warmth and comfort. It installs faster, easier, and cleaner than traditional tile as well.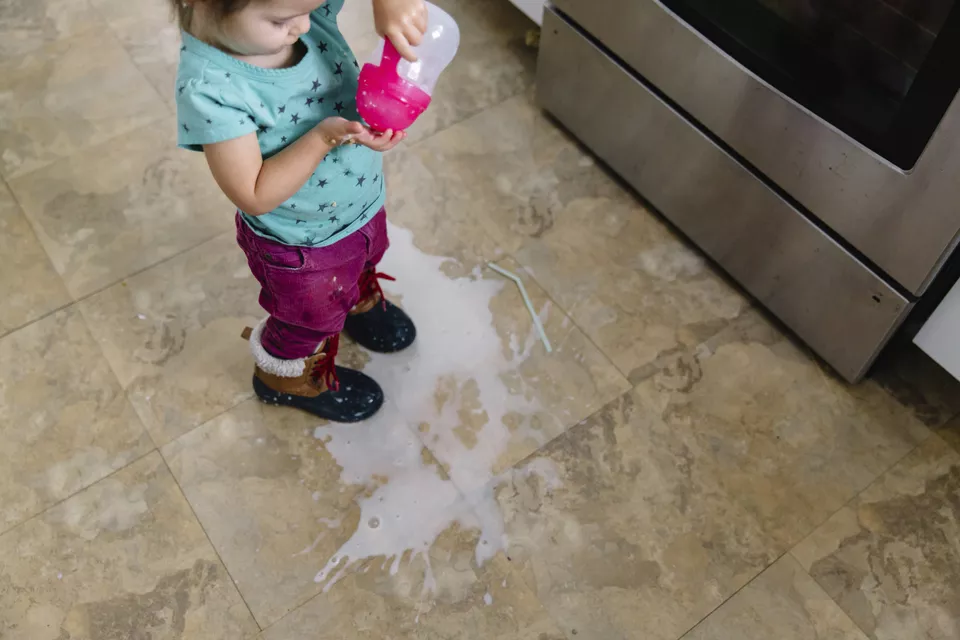 Planks.
Look like hardwood, with realistic colors and textures. Vinyl planks can mimic distressed surfaces or exotic species and have beveled edges. Many people want hardwood looks in their kitchen, but know it can't withstand the spills and drops that will take place. Rigid Core flooring is the perfect option though since it offers the best of both worlds. It provides the beauty of hardwood with none of the drawbacks. It was created to survive busy kitchens, so you never have to worry about rushing to clean up a spill or worrying about dents.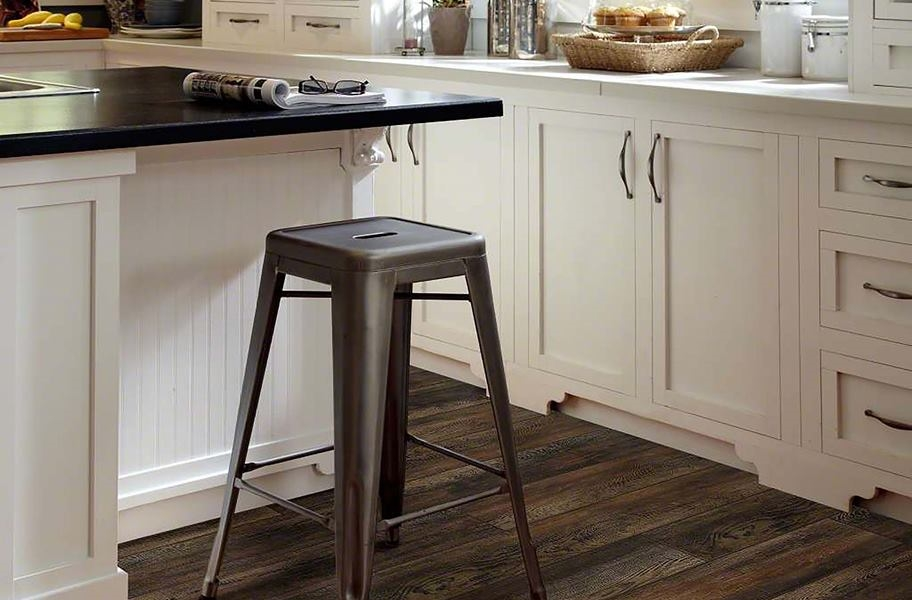 Dirt and small grit particles are particularly hazardous for causing slips and falls. You need to sweep or vacuum weekly in order to prevent them from scratching the wear layer of printed vinyl. Accidental falls are a major cause of injury in the home, and the kitchen is a place that often suffers from slippery spills and splatters that can make the floor treacherous, especially for young children, and the elderly. Vinyl is naturally resistant to slippage, but if you still have concerns, there are a variety of textured surface treatments that are available to give the material, even more, traction.