Introduction Hanflor 100% Waterproof PVC Flooring & Benefits of PVC Flooring
Commonly known as "vinyl," poly vinyl chloride (PVC) is made into a variety of flooring products, including many product lines with a faux wood grain appearance. It is made from a plasticized PVC formulated for use in homes and businesses. PVC is impervious to water and is known for its long-wearing durability. While much of the vinyl flooring previously manufactured was lacking in aesthetic detail, newer PVC wood flooring has very convincing colors, textures and patterns.
PVC flooring or polyvinyl flooring is none other than alternative terms for vinyl flooring! PVC stands for polyvinyl chloride, which is the material that makes up vinyl flooring. Thus, it is often shortened to polyvinyl flooring or simply, vinyl flooring, the most common term for this particular floor covering.
PVC flooring is known as either luxury vinyl tile or luxury vinyl plank. These are the modern improvements of vinyl flooring that offers superior durability and designs that can impeccably mimic the appearance of wood, stones, marble, and ceramic floors.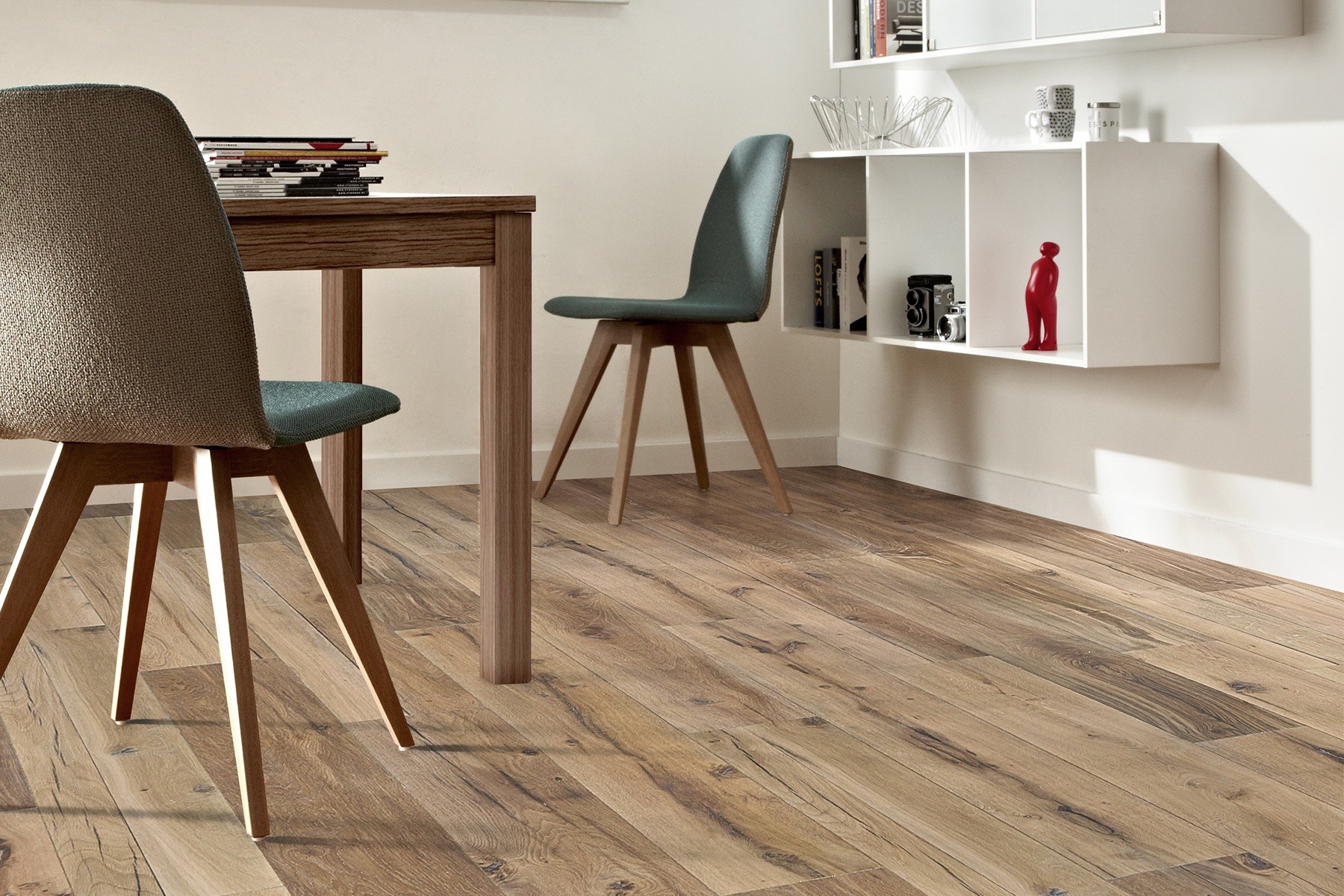 How to install PVC flooring?
Installing PVC flooring is much easier than other types of flooring, and does not require specialists and can be easily cut. For a roll type, you might prevent sticking the PVC flooring to the beneath layer, but to stay constant and prevent possible moves it's better to stick it to the ground.
100% Waterproof PVC flooring
Hanflor produces
100% waterproof PVC flooring
that effortlessly withstands extreme humidity. This new and unique concept of modular flooring combines all the benefits of laminate and vinyl. Hanflor vinyl flooring is an alternative to traditional laminate flooring. It is the ideal flooring for wet rooms such as bathrooms and kitchens.
Laminate is more resistant to water in comparison to parquet, but it is not completely waterproof. Instead, the PVC is completely water resistant and can be washed with water safely. It is therefore very suitable for use in damp environments like the kitchen. The price of laminate is higher than PVC.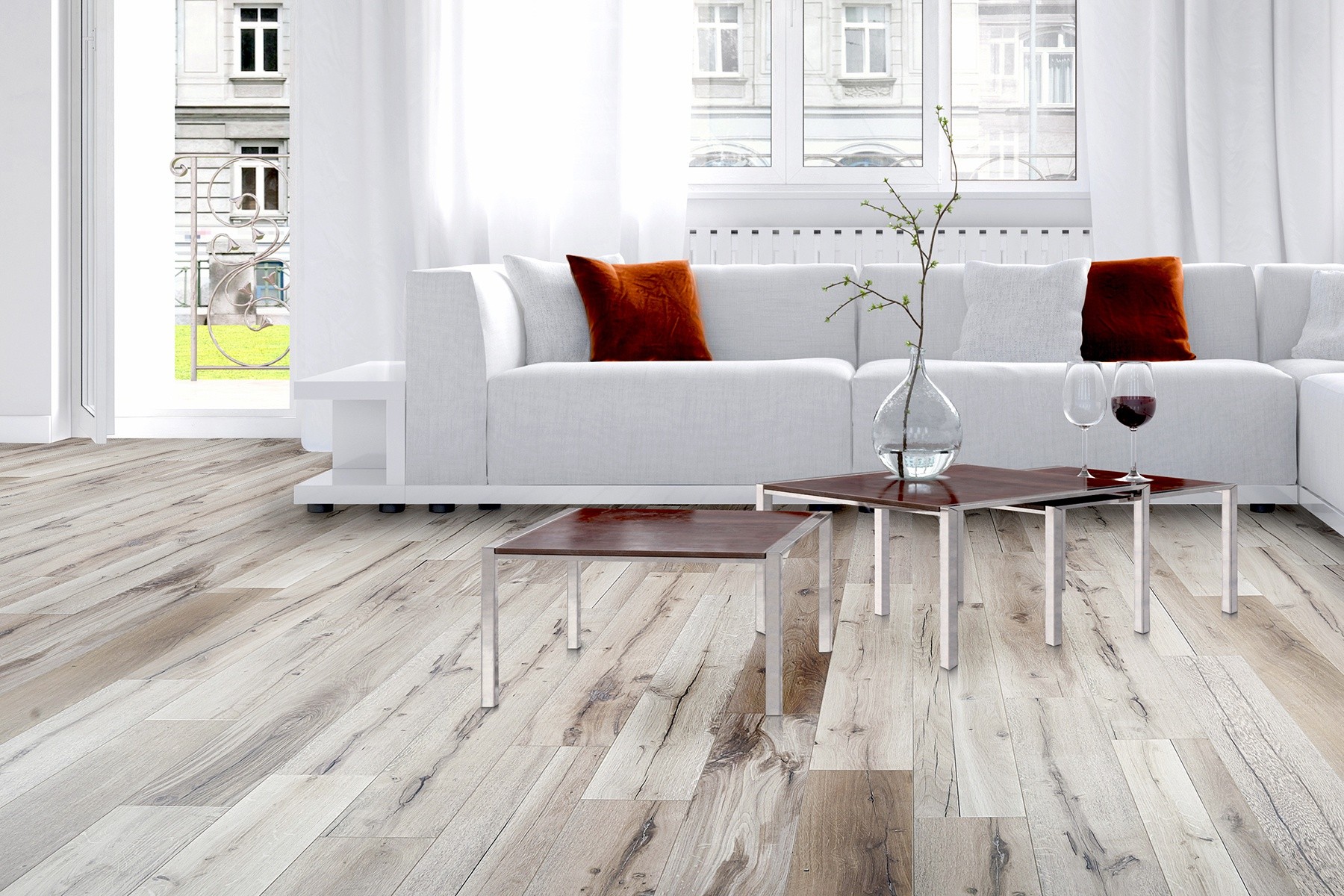 Benefits of hanflor waterproof pvc flooring

With Hanflor the underlay is integrated in the product. This allows easy installation and ensures that slightly uneven surfaces are compensated. The hard flooring hides any trace of the old substrate (such as tile grooves). Hanflor waterproof flooring can be installed on different surfaces (tiles, boards or cement).
As this PVC flooring is waterproof, it is easy to take care of using a wet mop just like a tiled floor. Hanflor PVC flooring also has unprecedented abrasion resistance that can withstand damage from fallen objects.
The PVC flooring's absorbency leads to an exceptional sound reduction (19 dB). The sound of footsteps is reduced and transferred to a lower degree. Hanflor offers high underfoot comfort because of the integrated underlay.
Our PVC Flooring are recyclable and free from formaldehyde.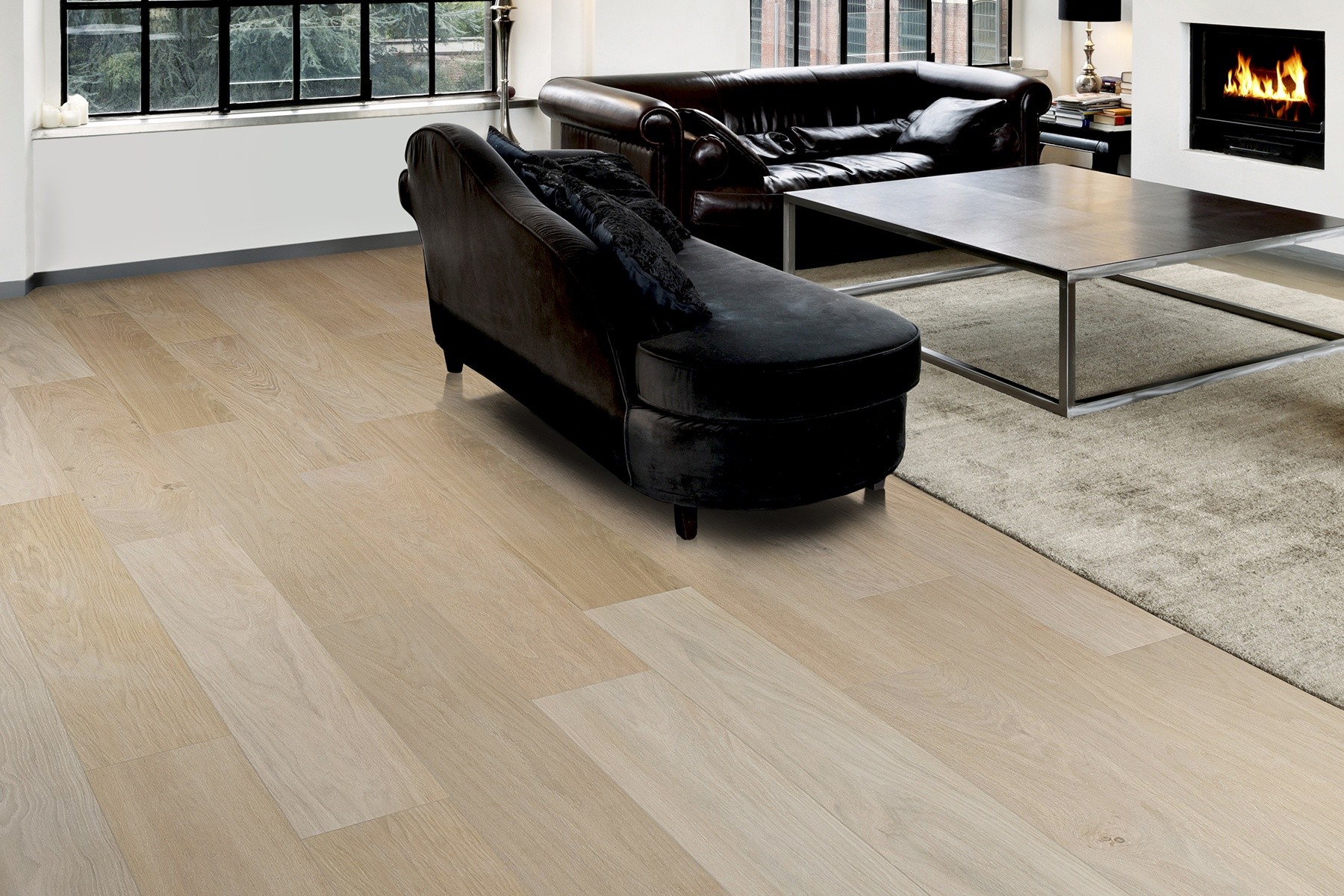 Selecting Your PVC Flooring
As with any other flooring product, your main considerations are matching your decor, staying within your budget and knowing what the installation requirements will be. First select a color and grain that suits your space. Start with the existing woodwork. If it is stained rather than painted, select a floor that matches the color and grain, or a contrasting floor that complements it. Next decide which type of floor best suits your budget and installation abilities, and select the flooring you like best in that product.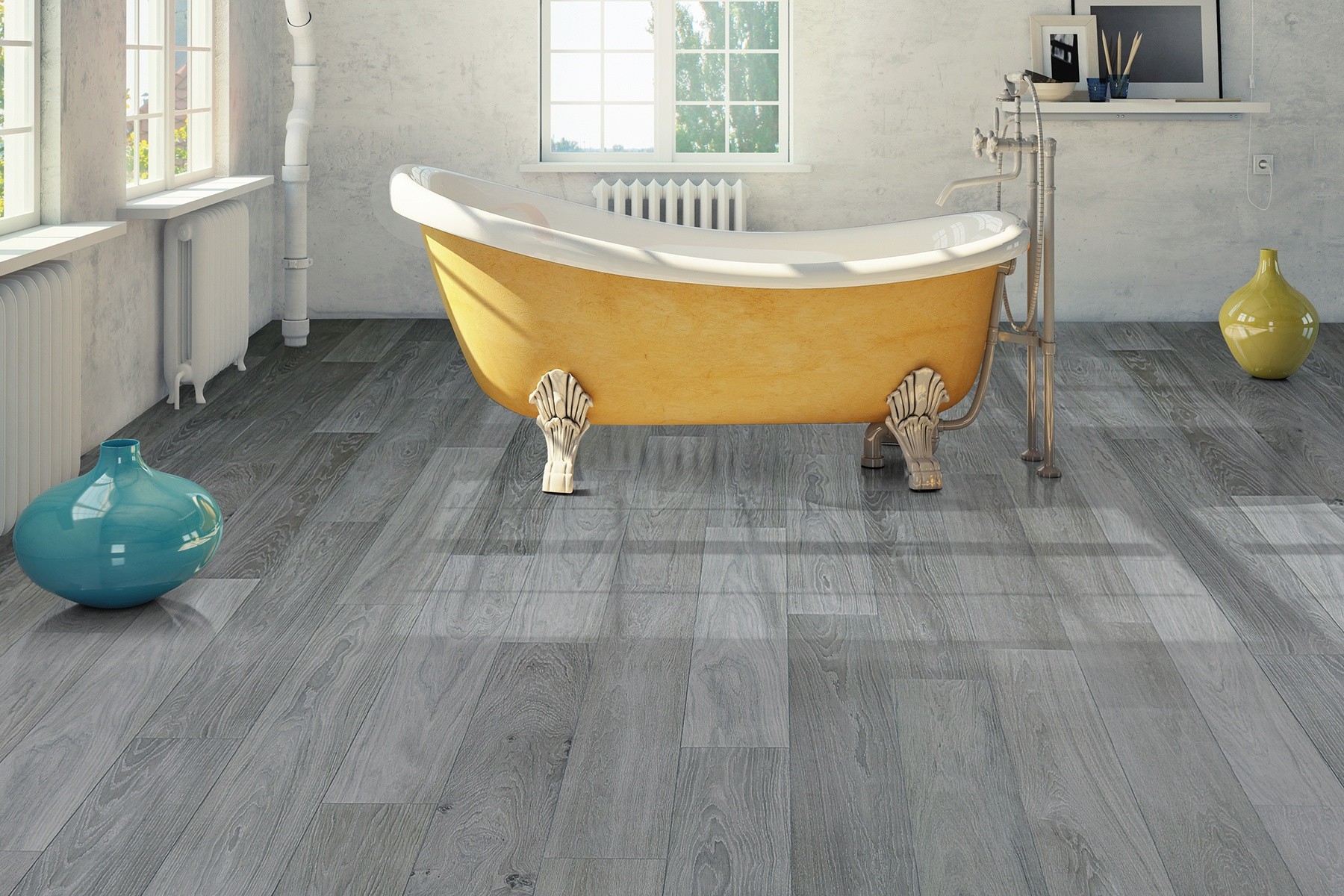 Installation PVC Flooring
For roll flooring, the entire area is covered at once. Measure the room carefully and cut your floor to fit. Spread adhesive over the entire installation area and roll the floor out starting from one wall. Press the floor into place with a weighted floor roller. Install trim around the outside edge of the floor to cover any gaps. For tiles, start by marking a T through the center of your room, running both directions. Lay tile along the lines of the T working out from the center toward the wall. Tiles will either be self-adhesive, or adhesive needs to spread on each tile. Cut tiles to fit along the wall. This is readily done with a miter saw or a rotary tool and a cutting blade accessory. Roll the floor with a weighted roller when you are finished.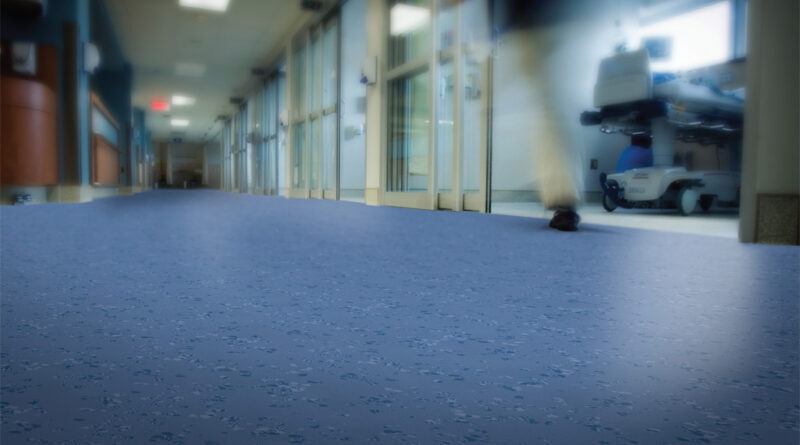 PVC Flooring Installation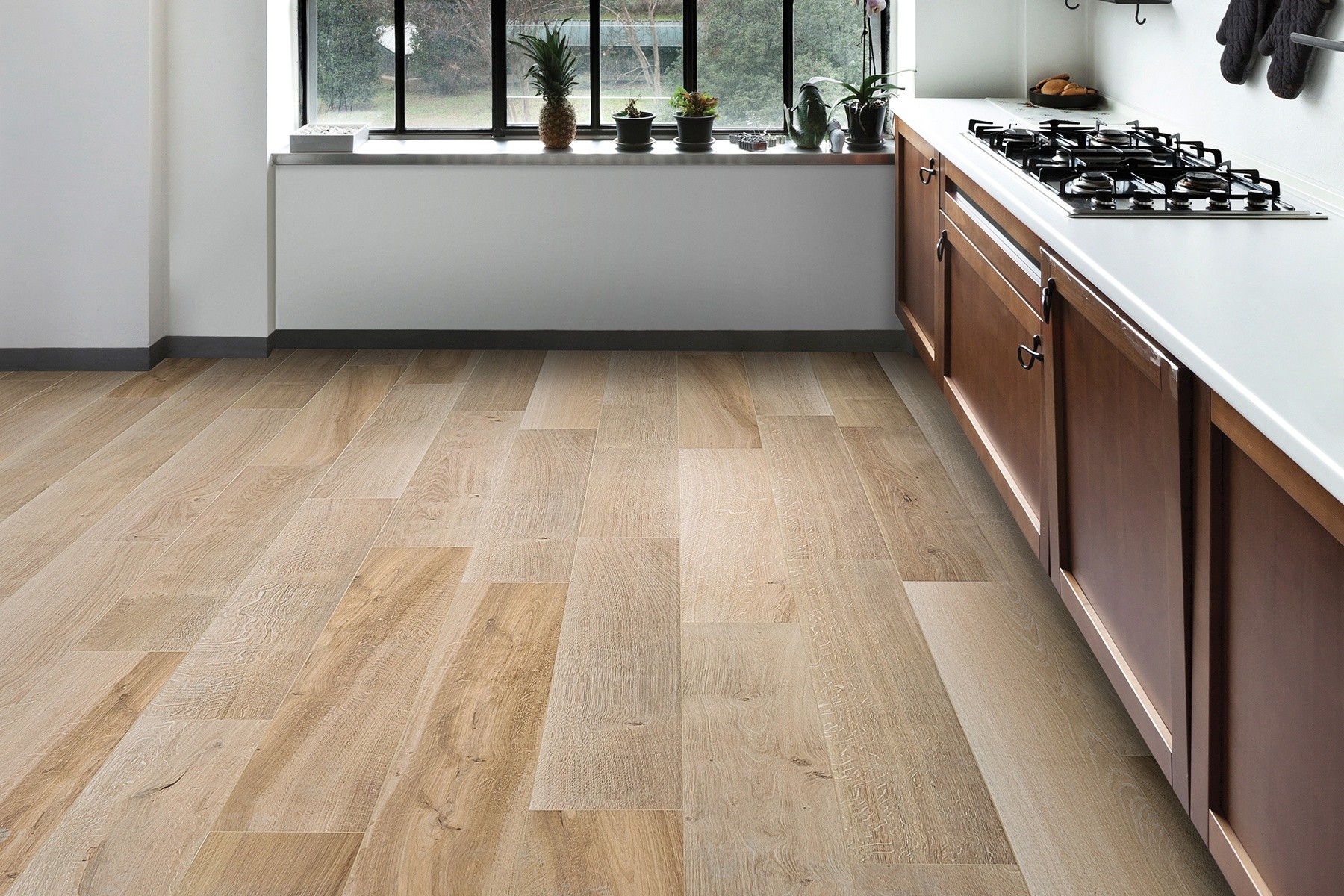 With luxury vinyl, the flooring adheres to itself, not the subfloor, leaving it to "float" much like laminate flooring. Rather than having a locking joint along the long edges of the planks, each edge has an adhesive strip. Planks are placed started along one wall, with the adhesive strip away from the wall. Each plank is adhered end to end along the wall, with subsequent rows added on along the long edge. A weighted floor roller can be used to press the floor into place upon completing the installation.