What is the best flooring for bathroom use?
Although the bathroom is often the smallest room in the house, bathroom flooring is frequently one of the most important design considerations in a property. Bathrooms are key areas in any home: not only are they rooms where the decor matters, the challenging environment means it's important to pick a bathroom floor covering that's durable.As well as considering the various bathroom flooring ideas available, we consider the different types of bathroom flooring and popular bathroom floor colours.
What's the best flooring for bathroom makeovers?
Trying to decide what the best flooring for bathroom refurbishments isn't always an easy task. Although ultimately you can have bathroom flooring in any colour or pattern you wish, bathroom white flooring, or another neutral tone, is usually recommended. The focus for bath flooring is on picking a surface that's not only practical, but which also works with the intended interior design. Although there are particular considerations around hygiene, in design terms bathroom flooring follows many of the same rules as any other room in the house.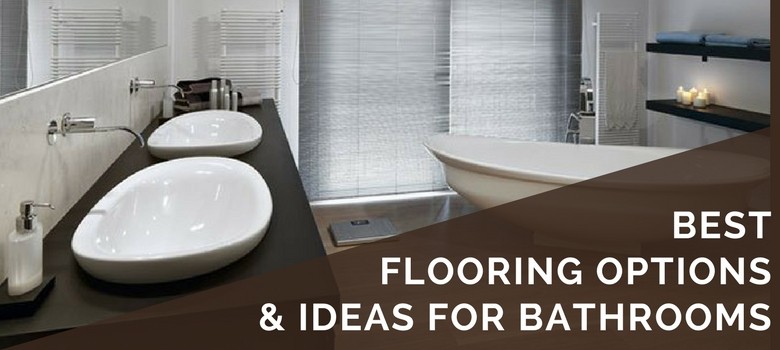 A lighter coloured bathroom floor covering will make the floor space look bigger and provide a spacious, airy ambience. Bathroom white flooring is ideal for smaller bathrooms, or for toilet flooring.
Darker bathroom flooring ideas can add striking visual impact, as well as giving a warmer look to larger floor spaces.
Patterned flooring can add to the ambience of the bathroom, as well as ensure that the room is on trend. Grey and white bathroom flooring, for example, adds contrast and interest at the same time as maintaining the clean, sparse vibe that's key to an appealing bathroom.
Synthetic bath flooring that mimics natural stone or wood can be particularly attractive. Stone or wood works well with water to give an elemental feel that's very rejuvenating. Luckily there are types of bathroom flooring on offer that are virtually indistinguishable from marble or quartz, but which don't have the weight or heavy-duty maintenance which characterises real stone.
Practical considerations for types of bathroom flooring
As well as the bathroom floor colours, it's also important to consider the practical characteristics bathroom flooring needs to possess. flooring.Consider thermal and acoustic insulation. Vinyl offers the best insulation. Tiles tend to be colder underfoot.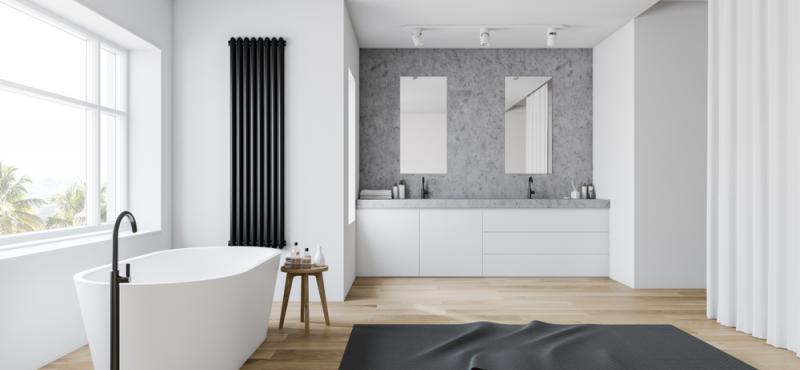 Degree of slipperiness. Vinyl is the least slippery. Tiles can become slippery when wet. Marble or quartz is usually slipperiest when wet. That coupled with its unforgiving nature if you fall on it means it's not suitable for every bathroom, despite its visual appeal. If you like the look of natural stone, a stone effect vinyl or tiles can work really well.
On-going maintenance: bathroom floors need to be easy to clean and to tolerate frequent cleaning. This means that non-porous options, such as vinyl, tiles, are ideal. Avoid carpet if possible! Toilet flooring, in particular, needs to be able to tolerate stronger cleaners (including bleach).
Bathroom size and shape: vinyl tiles are versatile options that can easily fit most bathroom shapes. Vinyl, in particular, can work well if you have uneven walls or an uneven floor surface to deal with.
What is the best flooring for bathroom use?
Because bathroom floors are likely to get wet, it's important that any floor surface that's fitted is correctly finished. This avoids the problem of water penetrating through to plaster or planking, which will deteriorate if they get damp.
Luxury Vinyl Pros
Water resistant and waterproof options.
Looks like higher end products.
Feels good to walk on.
Can be installed over existing flooring.
hanflor vinyl tile flooring
stocks a wide range of high-grade bathroom flooring options which are suitable for almost every bathroom. Ideal for residential use, our vinyls tiles are also a good commercial option for hotels, guest houses and similar accommodation. If you need any assistance in selecting the bathroom flooring that's going to be best for your project, our Product manager are here to help.