Benefits of hanflor Vinyl Sheet Flooring
What is Sheet Vinyl Flooring?
Vinyl sheet flooring is a lot different than the linoleum and vinyl sheet flooring of yesteryear. It's actually a highly durable, multi-layer flooring that's great for high traffic and commercial areas. It is comfortable underfoot and reduces noise, which can be important for owners with kids or pets. It is also less expensive than many other flooring options and is easy to install and maintain.
Sheet vinyl comes in rolls typically measuring six or 12 feet wide and is available in a variety of colors and designs. It has a fiberglass core that will not crack, curl, expand or contract, allowing it to be installed anywhere in the home, including high-moisture areas.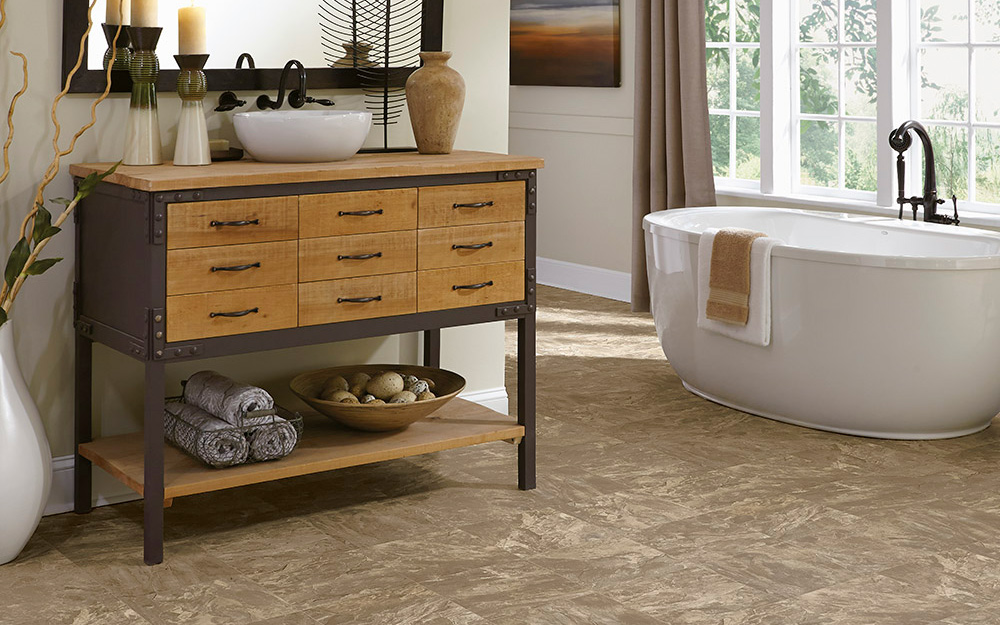 Benefits of Vinyl Sheet Flooring
Waterproof
The biggest advantage of vinyl sheet flooring is that it's waterproof. It's made with waterproof materials, such as PVC, which makes this flooring option perfect for water prone areas of the home.Versatile vinyl sheet flooring is great for any room in the house. You can install it on any level of the home — above, on or below ground. It's an especially good choice for high-traffic areas like kitchens and playrooms, or moisture-prone areas like bathrooms and laundry rooms.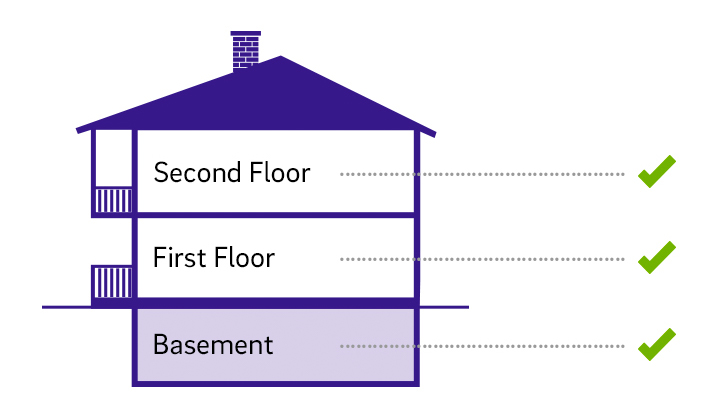 Stain Resistant
Vinyl sheets have a clear wear layer that acts as a surface barrier, protecting the floor from stains and spills. These materials are very easy to clean and maintain. By contrast, solid and composite vinyl tiles do not have this surface protection and will be more susceptible to stains, requiring occasional stripping and polishing.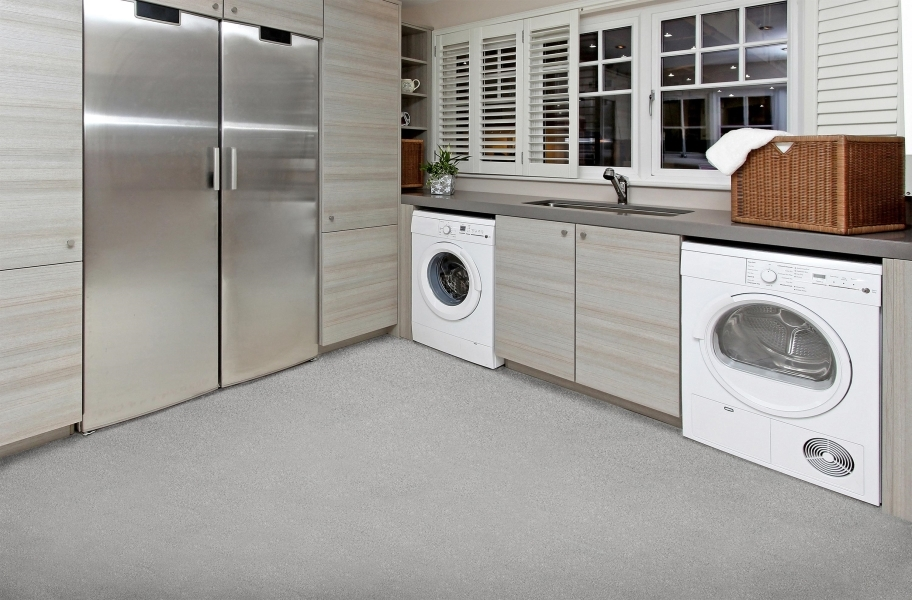 Comfort
Vinyl sheet is softer underfoot than other hard-surface flooring options, making it much easier to stand on for long periods of time. It's also warmer to the touch than harder surfaces like ceramic or stone tile. If comfort is a priority for you, look into vinyl sheet options that have an additional layer of cushioning.
Durability
Vinyl sheet flooring is a highly durable material that, if properly installed and maintained, can last upwards of ten to twenty years. This advantage makes it great for any room in the house, especially the high traffic areas that are constantly assaulted by sneakers, spills, pets, and sloppy spills!
Affordable
Vinyl sheet flooring actually costs less than tile or plank vinyl with similar colors and patterns. It's easy to see why, since sheet vinyl can be mass-produced in huge rolls without having to worry about precision cuts and waste. Also, the price also varies on the quality of the flooring, of course. If you buy a reliable brand, then the price might be higher, but the quality would also be better, so it would be worth it.
Low Maintenance
Not all flooring options are as easy to clean as vinyl sheet flooring. You can clean sheet vinyl flooring by sweeping and vacuuming any loose crumbs, dirt, or debris from the flooring as necessary. Use a light damp mop to remove any spills or stains as necessary. Be sure to clean up any spills immediately to prevent staining or discoloration. Do just this and you'll have clean floors—doesn't get much simpler than that!
Ease of Installation
Vinyl sheet is meant for flat, level surfaces.Vinyl sheet flooring is easy to install, making it a good DIY material. However, it does require the ability to take accurate measurements and make precise cuts to fit the space perfectly. If you consider yourself more of a DIY amateur, we highly recommend playing it safe and going with professional installation—it's always worth the extra cost to get your flooring installed correctly.
Design Options
Hanflor Vinyl sheet collections have improved color, clarity, textures and patterns all thanks to innovative technology. It's what gives the flooring the realistic look and feel of hardwood, stone, and even ceramic tile, but without the high cost. You can't beat the winning combination of on-trend style and durability! Hanflor's vinyl sheet provides about 500 colors. We can custom design your exclusive floor according to your interior style.
The backbone of sheet flooring provides a strong foundation. Backing helps to keep your floor strong and resistant to cracking or curling.
Here are our backing options:
Fiberglass Construction
Fiberglass Construction with Foam Backing

Vinyl flooring with a fiberglass core or backing will lay flat and won't curl up at the edges. With a flexible backing like foam, there's an extra level of comfort that makes it easier on your joints. There is also felt backed vinyl, which is very soft and comfortable. Both foam-back and felt-back vinyl will curl on the ends unless it is glued down permanently.
Hanflor Vinyl Sheet Flooring Wear Layer /Size
wear layer is important. It's what protects your vinyl sheet flooring from surface scratches. Think of the wear layer like a bodyguard. You probably want a pretty beefy bodyguard to protect you, right? The same goes for a wear layer; the thicker the wear layer, the more protection for your vinyl sheet flooring.
If you're using sheet vinyl flooring in a low-traffic area, you might not need the thickest wear layer. However, if you're installing sheet vinyl in a high traffic or commercial setting, you probably want an extra thick wear layer.
When you're dealing with vinyl sheet flooring, the width of the actual sheet is pretty important. Knowing the width you want can help save you time and money.
One of the more difficult parts of installing vinyl sheet is making the right cuts to minimize seams and minimize waste. You don't want to get the biggest width possible for a narrow hallway and you also wouldn't want to get a narrow width to cover a large square room. The most common width is 12'.
Before you shop, take some measurements and give us a call. We can help figure out the best width for your space.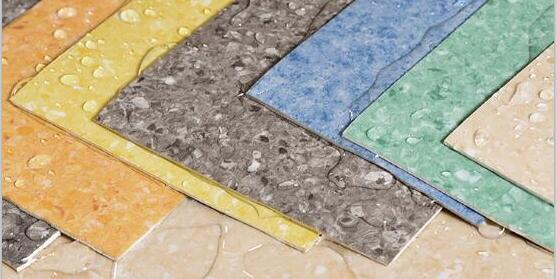 Homogeneous

Size

20m *2m

Thickness

2.0mm
Vinyl Sheet Commercial

Size

20m *2m / 15m *2m

Thickness

1.6mm

2.0mm

2.6mm

3.0mm

Wear layer

0.2mm

0.4mm

0.5mm

0.6mm

0.7mm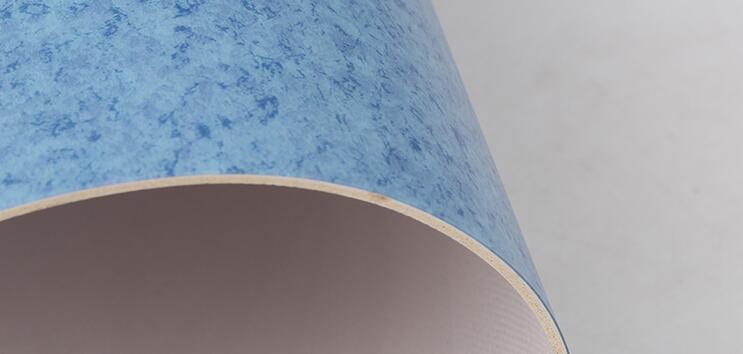 If you have other questions, you can contact our email info@hanhent.com