What is SPC vinyl flooring?What is the difference between WPC and SPC flooring?
Rigid core luxury vinyl flooring, also known as SPC flooring, is the most durable waterproof vinyl flooring option on the market.
SPC flooring stands for Stone Plastic Composite. Known for being 100% waterproof with unparalleled durability, these engineered luxury vinyl planks use advanced technologies to beautifully mimic natural wood and stone at a lower price point. SPC's signature rigid core is virtually indestructible, making it an ideal choice for high-traffic and commercial environments.
Its solid core that gives the floor superior indentation resistance, and it doesn't need to acclimate before it's installed. It can handle wide temperature ranges so you can leave your house, shutting off the heat and AC with peace of mind. It withstands all of life's moments.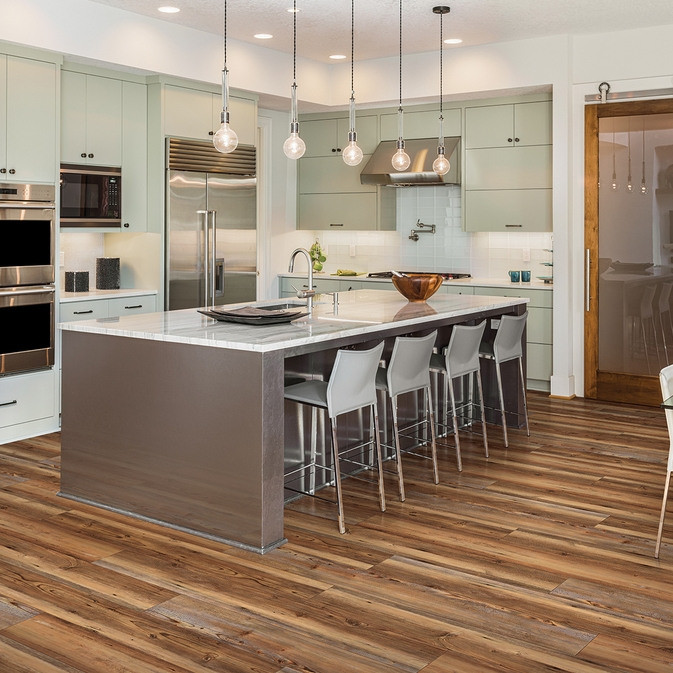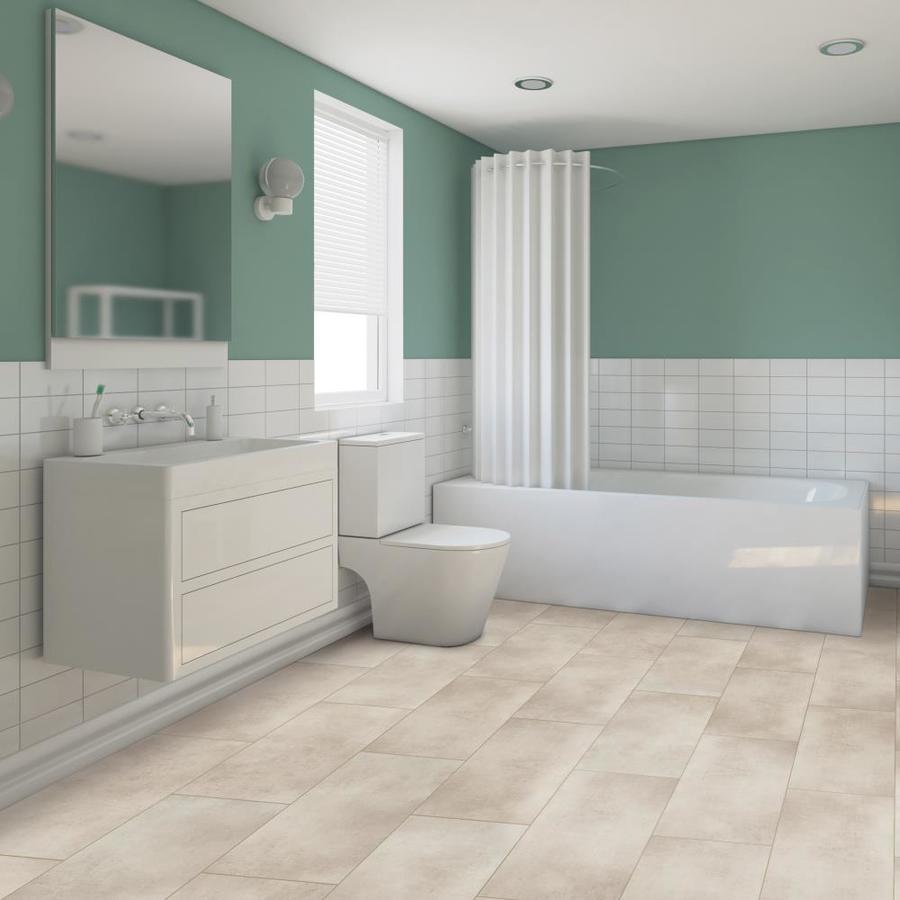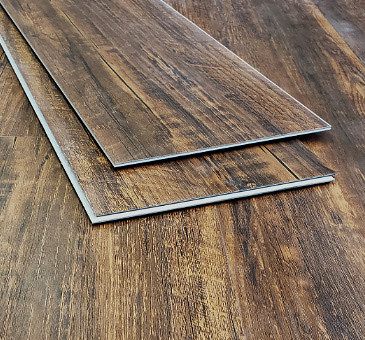 You know how vinyl has a reputation for being flexible and less sturdy than traditional wood or laminate? WPC vinyl is pretty darn sturdy, but SPC rigid core luxury vinyl flooring is like standing on concrete.
This small, thin flooring is the toughest of the tough, specially designed to withstand the use and abuse of commercial environments.
Like WPC, SPC rigid core vinyl flooring is the top of the line for not just functionality but looks, as well. With rigid core vinyl, you'll see all the hottest wood and stone-look trends and colors in beautiful, convincing planks and tiles.
SPC is industry lingo for Stone Plastic Composite or Stone Polymer Composite (these terms are used interchangeably). It describes the ultra-tough core of rigid core luxury vinyl flooring. The stone plastic composite makes that core layer virtually indestructible, maintaining its form even on top of uneven subfloors.
It means you can install SPC rigid core luxury vinyl flooring on any level, over almost any existing (hard surface) subfloor and for any amount of traffic.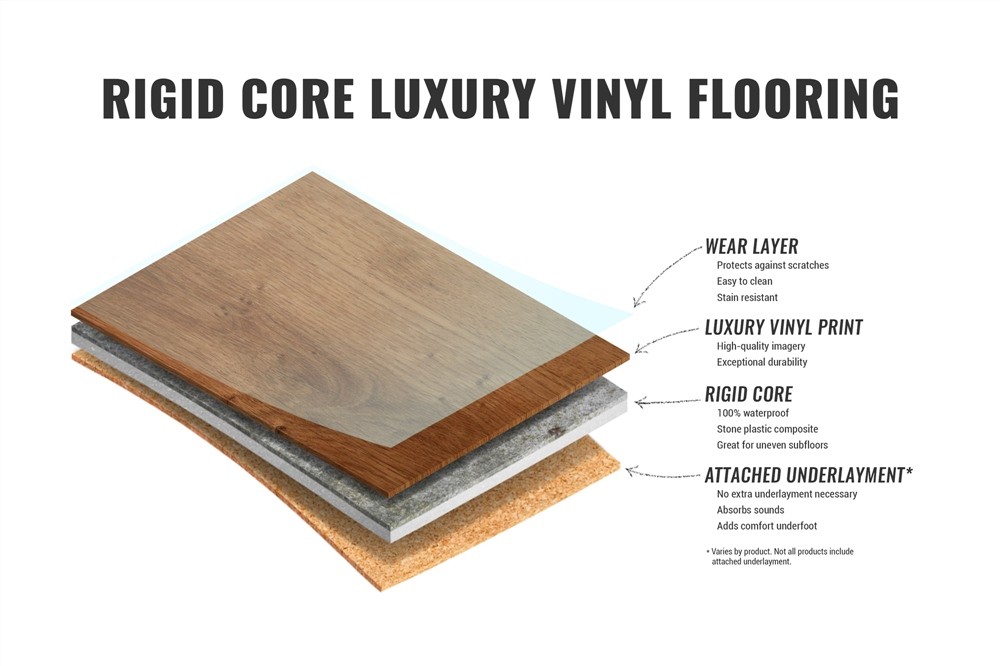 SPC Core is the main attraction of the layers.SPC flooring contains a solid, waterproof core. It won't ripple, swell or peel no matter much liquid you subject it to.
This core is ultra-dense with no foaming agents like you'll find in traditional WPC flooring. It gives you slightly less resilience underfoot, but it makes the flooring a superhero in the durability department.
The meat of both WPC flooring and rigid core flooring is the waterproof core. In WPC flooring, this is made from wood plastic composite, while with SPC, it is made from stone plastic composite. The stone is stiffer, sturdier and less resilient.
Imagine WPC flooring as your plush, luxurious home carpet. It's soft and wonderful, but it's not as durable or easy to maintain as a low-pile commercial carpet.
SPC rigid core is this commercial carpet. The planks/tiles are thinner, less giving under foot and ultra-sturdy and durable.

It's no surprise then that SPC rigid core luxury vinyl flooring is traditionally used for high-traffic commercial spaces. It is unbending unlike traditional vinyl and virtually indestructible.
Structurally, the WPC core contains added foaming agent to increase resilience and comfort. The SPC has no foam added, giving it a stronger, more robust core.
When it comes to scratches, both SPC and WPC are dependent on the wear layer. You'll find options from 8MIL all the way to 20MIL+. The thicker the wear layer. the better your floor will hold up.
As far as dents from heavy furniture, SPC rigid core is less susceptible to this than WPC flooring due to its, well, rigid core. That's what makes it great for commercial environments. No matter how much traffic you see, SPC rigid core can take it.
This is where things get really different. With rigid core, the thickness of your vinyl really doesn't matter.
Everything you've ever read about vinyl flooring says "thicker = better". And that has been true for a long, long time.
But! Now, hanflor thrown clients for a loop creating an ultra-thin, super-durable option. Rigid core luxury vinyl planks and tiles are specially manufactured to be ultra-thin and light, usually measuring no thicker than 6mm.
It's funny because you look at the flooring and it looks thin and flimsy and you think "No way that's the most durable vinyl flooring option on the market!" But, it is! Just try giving it a bend. It doesn't matter how strong you are; that SPC core is stronger.