How to choose Stone-Look Luxury Vinyl Tile and its benefits
Luxury Vinyl Tile has become the hot name in durable and stylish flooring, with an ever-expanding library of impressive wood-look styles. But what if it's a stone-look you're after?
Imagine the look of natural stone: the captivating mosaic shapes, the delicate veining and the gorgeous blend of organic colors and clefts. You can enjoy the beauty of materials like slate, travertine and quartz, artfully captured in stone-look vinyl flooring.
With printing technology constantly improving, this maintenance-free product now comes in a variety of stone-look styles with a depth and realism to suit any space.
Like its wood counterpart, stone LVT is available in a variety of styles, ranging from classic and neutral, to industrial and rustic. While the selection is nearly endless, some popular options are: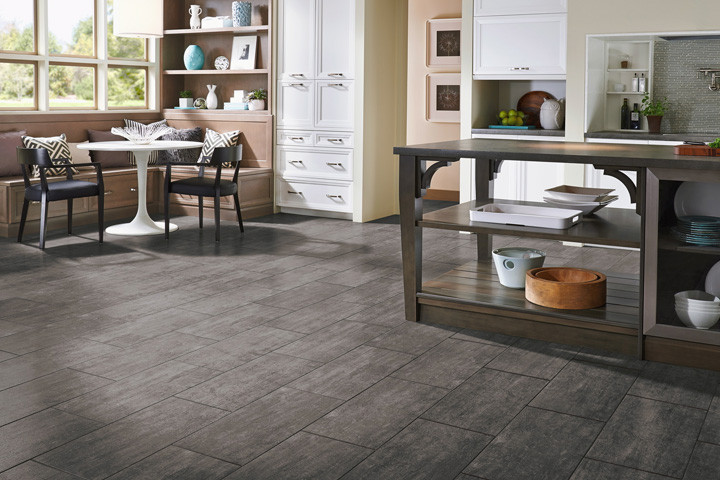 Slate
–Just like in nature, slate-look tiles come in a variety of colors, from sleek and subtle gray, to a warm blend of rich colors, including gold, and amber.
Travertine
– With a typically matte finish, earthy travertine LVT looks as if it's been gently worn over time. Warm gold and creamy ivory add an earthy touch to any room.
Marble
– Timeless Carrara marble gets a comfortable upgrade in maintenance-free LVT. This is always an elegant and practical choice for kitchens and bathrooms.
For a truly unique look, consider pairing complementing LVT styles in a custom pattern.
While stone-look LVT portrays the natural beauty of stone, it's the comfort factor that really sets it apart. Unlike the cold, hard surface of natural stone flooring, LVT offers a warm and more comfortable surface whilst still providing the durability and stability of stone.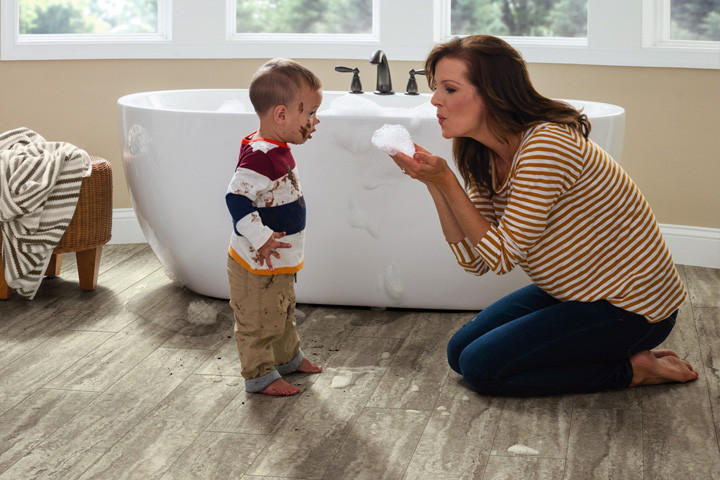 Hardwearing, waterproof, durable stone-look LVT is designed to be virtually maintenance-free. The outermost layer is scratch, stain, and abrasion-resistant — effortlessly protecting the beauty of your floor for years to come.
Stone-look vinyl flooring is designed to go the distance in your home, no matter what your lifestyle. Cleaning, care, or upkeep will never be a chore. Just a quick sweep and an occasional damp mopping is all you need to maintain a spotlessly clean floor.
An invisible scratch, stain and abrasion-resistant wear layer protects the beauty of your floor, enabling it to stand up to kids, pets and heavy foot-traffic. Even everyday drops and spills won't mar or damage the beautiful surface of your "stone" vinyl flooring.
Elegant, strong and comfortable —stone-look LVT has it all. Hanflor Flooring offers an expansive collection of vinyl flooring in styles resembling stone. Any style you choose will bring long-lasting beauty to your home.