Woking firms V4 Woodflooring and Double R Racing team up for life in the fast lane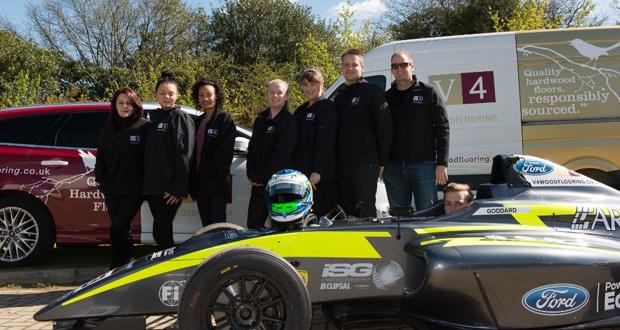 Two major Woking businesses have come together in a partnership which sees V4 Woodflooring sponsor Double R Racing's Formula 4 team, supporting young and upcoming racing driver Zane Goddard.
Double R Racing has been one of Woking's biggest sporting success stories over the past decade, winning the high-profile British Formula 3 motor racing championship and becoming the town's
other Grand Prix winning team. V4 Woodflooring has had similar success with the Woking company leading the way over the last 15 years to become one of the UK's biggest wood flooring companies.
Based on the Woking Business Park, just moments from the V4 head quarters, Double R Racing is one of the most prominent teams in the junior levels of formula racing and provides a unique environment to help develop and train young drivers from across the world.
Working with some of the sport's most famous drivers, the squad has helped to nurture the talents of the likes of Bruno Senna, nephew of the legendary Ayrton Senna, Valtteri Bottas, who races in Formula One with the Williams F1 Team, and Felipe Nasr, who is also an F1 driver with Sauber.
Additionally, Double R has produced a long line of mechanics and race engineers who have subsequently gone on to establish very successful careers at the highest standard of global motorsport – several going on to work in Formula One for Woking based McLaren.
Having made their mark on the Formula 3 circuit, winning the British Championship in 2006, Double R Racing developed a team for the Ford MSA Formula, the official British version of FIA's Formula 4.
New to the team this year is Zane Goddard. The 16 year-old stepped up from karting and into the inaugural FIA F4 Australian Championship in 2015, and his performance saw him finish ninth in the championship. Spotted by Double R Racing as a future talent he was approached and signed up to drive for team in the British F4 series in 2016.
Motor racing remains a passion for V4 Co-founder, Chris Vincent, who himself was a racing driver, starting in karting and progressing to single seater race cars at the age of 17, and he is delighted the company will be supporting Zane's Ford MSA Formula 4 season this year. "I've continued to follow racing with a keen eye since my retirement from the sport, so to be in a position to show support to not only British motor sport, but a great local team and an amazing young racing talent is fantastic."
"There is a natural synergy for V4 to sponsor an F4 car team, and not just for the name. At V4 we are always pushing to be at the front of wood floor technology and design, a devotion shared by the Double R team when it comes to their cars. And unlike many other wood flooring suppliers in the UK we provide a high speed next day delivery service from our warehouses located across the country. We are rooting for Zane to be high speed around the racing circuits he will drive on this season."
Last year, Double R Racing's position as a key local employer and provider of training opportunities in Woking was under major threat when the landlord of its previous base refused to renew the lease.
Thanks to excellent support and assistance from Woking Borough Council, Double R found a new home at Woking Business Park where it now operates its race-winning Formula 3 and Ford MSA Formula FIA F4 operations.
Team Principal and Company Director for Double R Racing, Anthony 'Boyo' Hieatt is thrilled to have V4 on board, "The support by way of sponsorship from companies like V4 is vital to help us develop the latest technology to secure the success of our cars, but even more importantly support the young racing talent that emerges from this level of racing, who often become major internationally acclaimed racing drivers in the future. We predict a very bright future for Zane to continue to put Woking on the motor sport map."
Testament to the growing popularity of Ford MSA Formula, the season is being broadcast live on ITV4 this year. With a calendar of ten races, the championship kicked off in April and will draw to a climax at Brands Hatch on 2nd October, after visits to legendary race circuits including Donnington, Silverstone and Oulton Park.