Brintons creates first class designs for Dubai International Airport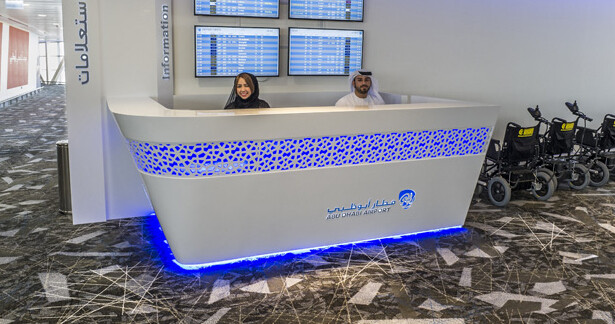 World-renowned carpet manufacturer, Brintons, has created the finishing touches to Dubai's iconic International Airport through the use of its unique HD Weave Technology.

Situated in the Al Garhoud district, Dubai International Airport is the country's primary airport and the world's busiest by international passenger traffic. Located over 7,200 acres, the airport contains three terminals, three concourses, two cargo mega terminals and an expo centre with three exhibiting halls.

As part of an expansion project to extend the airport with a third terminal, Brintons has supplied bespoke carpet for the luxurious Emirates First Class Duty Free Lounge.

Working together over six months, the airport chose a design from Brintons' Skulduggery HD Weave Collection to capture the simplicity and elegance of the airport's interiors through a modernistic combination of geometric yet sophisticated patterns.

Inspired by music, the Skulduggery collection transforms graffiti, rap and heavy metal into an urban, manmade theme through a spectrum of shades. Brintons' latest HD Weave Technology allows up to 32 different shades to be weaved into one design, creating truly breathtaking photo-realistic results.

To perfectly encompass the modern and sleek interior style of the airport's newest terminal, the bold Skulduggery design was created using a palette of soft greys and browns to mirror the matching surrounding marble interiors of the Duty Free Lounge.

Meghna Rawat, Field Designer for Brintons Middle East and Africa, said: "To reflect the airport and the country's ultra modern architecture and elegance, the designs consist of crisp geometric designs in a palette of rich light and dark shades. The colour grey used throughout the scheme is associated with formality and sophistication, which Dubai perfectly encompasses, making it the perfect shade to use throughout this carpet.

"At Brintons all our carpets are made up of premium quality materials, including a high content of British wool and 20% nylon, which prolongs the life expectancy of the finished product, making it ideal for projects such as these."