COREtec LVT flooring COREtec new hard flooring range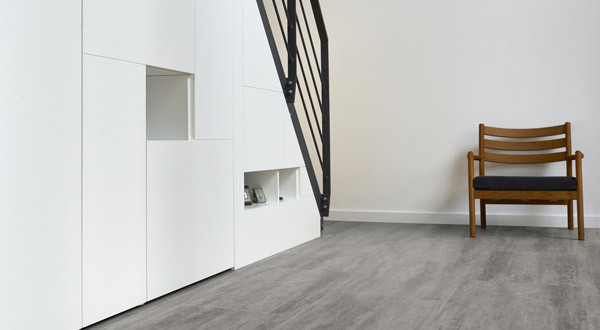 COREtec® represents the next revolution in hard flooring.
This entirely new category of hard flooring is a great alternative
to glue down LVT, Solid locking LVT or laminate flooring. Its extruded core is made of recycled wood and bamboo, limestone and virgin vinyl.
COREtec® floors can be installed in wet areas. They will never swell when exposed to moisture and are backed by a lifetime waterproof warranty.
INNOVATIVE
The patent-pending construction (exclusively from USFloors) is extremely stable and will not expand or contract under normal conditions. No need for expansion strips in large rooms. No acclimation required prior to installation, so you floor can be installed right away, even over excisting hard surface floors. COREtec® is the only floor that hides all subfloor imperfections.
DURABLE
COREtec® features a 0,5 mm commercial rated wear layer for maximum durability. Two coats of our UV acrylic finish provides superior stain resistance and
cleanability.
COMFORTABLE
Enjoy the look of wood or stone with the comfort of an attached cork underlayment.
COREtec® is a quieter and warmer floor than ordinary LVT floors and requires
no additional underlayment.
100% WATERPROOF excellent for wet areas
SCRATCH RESISTANT two coats of UV acrylic finish
EXTREMELY STABLE no acclimation required prior to installation
SILENT FLOOR reduces noise due to the Cork Underlayment
NO UNDERLAY NEEDED hides subfloor imperfections
EASY TO INSTALL thanks to the widely-acclaimed L2C system
WARRANTY lifetime residential and 10 year commercial wear warranty
ATTRACTIVE DESIGNS modern contemporary planks & tiles for all interiors