UltraFloor launch new flowable bulking concrete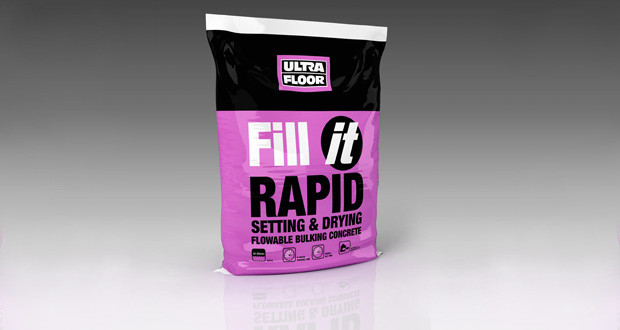 The addition of this exciting new product to the UltraFloor range provides a quick and cost-effective alternative to the labour and time intense traditional method of mixing underlayments with aggregates.
UltraFloor Fill IT is a general purpose, rapid setting flowable backfilling concrete designed to eliminate bulking of underlayments on site with aggregates. It is ideal for deep section repairs, unwanted utility and drainage channels and access covers. Its self-compacting flow properties make it a very easy material to apply to a variety of internal and external substrates. The product is suitable for application depths from 30mm – 300mm in one pass, and its rapid setting and drying properties allow it to be covered with final floor finishes within 24 hours.
The product's formulation is enhanced with added fibres for extra strength reinforcement and is shrinkage compensated for a seamless finish. What's more its excellent flow eliminates the need for using a trowel when applying. UltraFloor Fill IT has a working time of 5 – 10 minutes and a set time of 20 minutes.
The product is packaged in a 25kg poly bag which contains both the cement and aggregate components ready for mixing with water.