Best Flooring for Families with Children
Best Flooring for Families with Children

If you live with young children, then you already know that your floors take a lot of punishment. From spills to scratches, car races to gymnastic routines, your floors need to be able to handle it all. Everyone wants beautiful floors, and because your floors aren't something you replace often, they need to stay beautiful for years to come. With children in the house, that can be a tall order, so we're going to break down your best flooring options and help you get one step closer to fantastic new floors.
Hardwood
Hardwood is classic, always in style and has a lot of benefits. If well maintained, it can last a lifetime. Simply sand it down and refinish it and your floors are brand new again. It's also a great option for houses where allergies are a problem because it doesn't hold onto pollen and dust the way a carpet can. It does have its drawbacks though. Hardwood flooring can be expensive, and though refinishing it is possible, it will show scratches and marks in the meantime.
Tile
Tile floors are beautiful and are definitely durable. They are incredibly tough and won't scratch or warp. You can rest assured that life with children won't damage your tile floors, though they aren't very forgiving when little ones fall. Because of this, they may not be a good fit for families with young children who are still prone to toppling over.
Carpeting
Carpeting is a popular choice for families with children because it does offer that extra cushion when little ones fall, as well as provide a soft, warm surface on which to play. It's also a cost-efficient option, often priced at a fraction of hardwood floors. But carpets are harder to clean.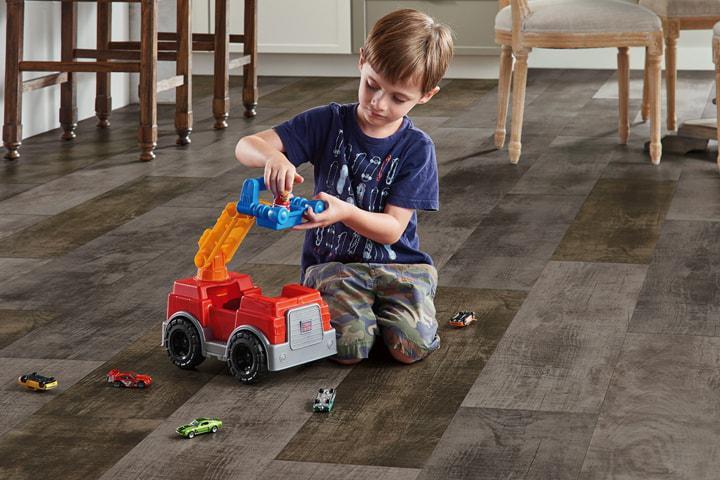 Laminate
Laminate flooring is an inexpensive and incredibly versatile option for families with children. It comes in a wide variety of styles, including hardwood and tile looks. It's also easy to install, maintain, and clean. Laminate floors will resist spills and scratches and won't hold on to pollen and dust that can cause allergies.

But,Laminate flooring are not waterproof.Aggrandizement is compound floor alleged waterproof, added a wax on tongue-and-groove namely!There is no real waterproof floor.

Luxury Vinyl
Luxury Vinyl floors are an excellent option for families who like the look of hardwood or tile floors but are looking for something less expensive. They look remarkably like the real thing with the added benefits of being scratch and water resistant, as well as providing a little more cushion when little ones fall. Luxury Vinyl flooring is easy to install and clean and is another excellent choice for allergy sufferers.