Join Recofloor at this year's 'Bacon Butty' events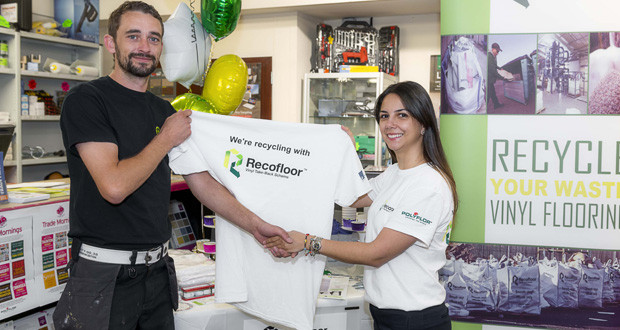 Recofloor has launched its 2016 series of 'Bacon Butty' events where flooring contractors and fitters can find out more about the UK's award-winning vinyl flooring recycling scheme while enjoying welcome refreshments.
Free goodies, including travel mugs and T-shirts, along with bacon or egg rolls will be on offer at participating distributors' premises across the UK where the events will be hosted by new Recofloor team member Joe Gardner.
Founded by leading flooring manufacturers Polyflor and Altro in 2009 to divert waste material from landfill, Recofloor has more than 60 drop-off sites throughout the UK and Ireland at flooring distributors accepting post-installation vinyl flooring off-cuts and uplifted vinyl flooring.
This year's bumper schedule has already featured a major Flooring Show at Cardiff City Stadium on May 18 arranged by flooring distributor 3D Flooring Supplies, winner of several Recofloor Awards. The company won this year's coveted Distributor of the Year Award.
Roadshows have already been held at Headlam Gateshead on May 24, Lee Floorstok Ltd, Manchester on May 26 and MCD Wales on June 2.
More are planned at:
3D Flooring Supplies, Cardiff on June 3

Headlam Scotland on June 6

Headlam Carlisle on June 7

Ashmount Flooring Supplies on June 9
Safety Flooring Supplies on June 10

Beach Brothers on June 20

3D Flooring Supplies, Taunton on June 21

Flooring Accessories on June 22

3D Flooring Supplies, Swansea on June 28
An event is also planned at 3D Flooring Supplies' new Bristol branch opening soon.
Customers are invited to drop in, pick up their free butty and learn more about how Recofloor's services can enhance their businesses.
Benefits for Recofloor's 700-strong nationwide membership include a sustainable option for end-of-life flooring, enhanced green credentials and up to 70% savings in disposal costs. Starter packs that include material specification, collection bags, a brochure and Certificate of Commitment will be provided for those interested in signing up to the scheme.
Bookings for this year's Bacon Butty events attracted high levels of interest, according to
Recofloor's Project Officer Carla Eslava who said: "Replies came within hours of sending out invitations; we've had an enthusiastic response! Bookings for July are available too, so please get in touch if you would like to take part and create a bit of a buzz around your business."
Carla added: "We'd also love to hear about distributors' events that Recofloor could attend and support, or from contractors who would like Toolbox Talks and training for their staff. Meanwhile, our Bacon Butty events are on the road and we look forward to sharing the Recofloor scheme with you soon!"