How to Make a Room Look Bigger With Flooring?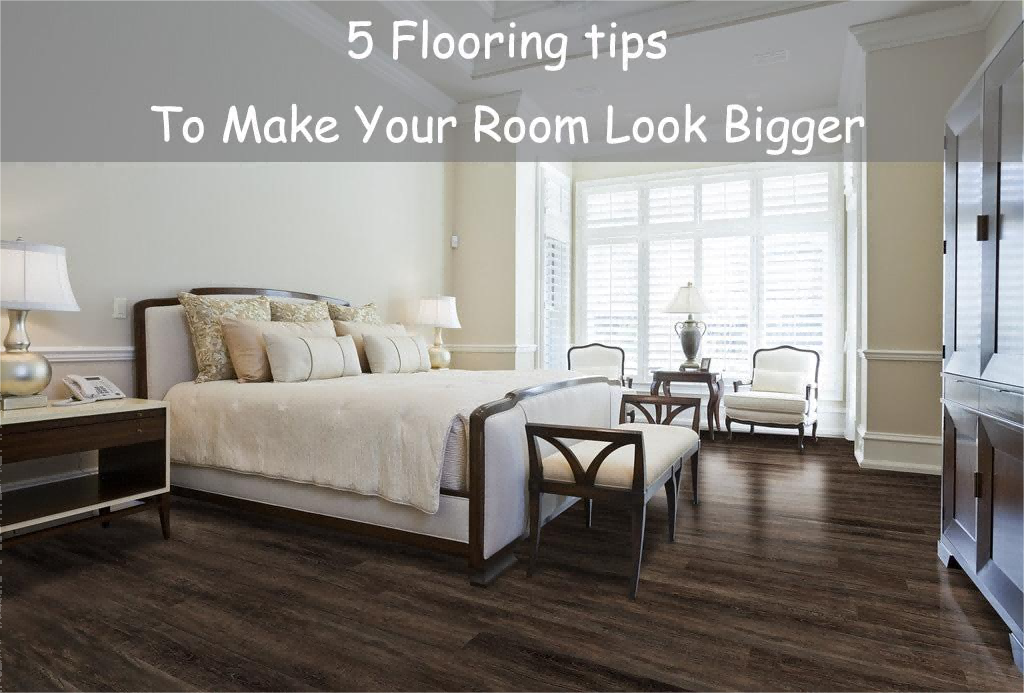 What Color Flooring Makes a Room Look Larger?
Light, Airy Colors
Lighter shades of colors, such as blue, teal, and earth tones are possibilities as well, giving a more open, airy, and uplifting vibe than darker shades. Blonde, light brown, or even whitewashed hardwood flooring can also make the most of this technique.
Do dark floors make a room look bigger?
It's a misconception that dark wood floors constrict our sense of space. Paired with the right combination of the wall color, trim, and molding, darker species like walnut and exotic Brazilian cherry can, in fact, make a room look bigger.
5 Flooring Tips to make your room look bigger
1. Opt for Dark Flooring
We've all heard the myth that dark colors minimize the appearance of whatever they are paired with. However, that couldn't be further from the truth when it comes to the flooring in your home. When you pair a dark floor with the correct tones throughout a room, you will experience a depth of space that would have otherwise been missing. Dark-colored hardwood and laminate are on trend right now, so there's no better time to renovate with a fantastic espresso-colored floor.
2. Try Out Diagonal Floors
Whether you're using carpet, laminate, vinyl, tile, or hardwood, placing it diagonally is a great idea if you want to maximize the space. Since the wide part of the diagonal pattern faces you when you walk into a room, your brain draws the eyes to the largest space, which gives it a wider feel. This is an illusion of the mind, and it is one that you should certainly use to your advantage.
3. Pick Large Tiles and Wide Planks
If you're renovating a small space, consider the large tiles and wide planks. These styles give off the impression that the size of the room is larger than it actually is. It just so happens that plank flooring is one of the biggest trends right now, so it is easily accessible and often affordable. If you are using large tiles, be sure that the grout line is as minimized as possible to keep the illusion. The same goes for carpeting as well! Using a style of carpeting that is made of a large pattern throughout will do wonders for the space. Especially in comparison to sticking with a solid color from one wall to the other.
4. Free up the Floor Space
It goes without saying that clutter makes a room look much smaller. Free up some of the floor space with storage solutions along the wall, such as floating shelves. If there is a television in the room, consider installing a wall mount instead of an entertainment center on the floor. This little thing can really make a difference when it comes to how a room feels!
5. One Flooring for all Rooms
Using the same flooring in several rooms in your home is proven to create a seamless effect that helps each room flow which makes smaller spaces in the home appear larger and part of something bigger.
Expert Flooring Solutions in hanflor
Contact the flooring professionals at hanfor today and discover what our team of experienced vinyl flooring experts can do for you.
hanflor can help you pick out the perfect flooring surface for your home or office. We offer a wide variety of custom and brand-name flooring at affordable prices that fit your budget. No matter your flooring needs, your handler expert is here to help.
Why Choose hanflor?
We have complete certificates like:DIBT,ISO,
FLOORSCORE
,CE,SGS,TUV and product test report. Contact us for factory price quotation.
Hanflor-Vinyl Flooring Manufacturer
Well experienced for 20 years, we have established global trade in resilient vinyl flooring for commercial and residential use in over 50 regions. To simply put it, we make and sell realistic PVC flooring. Our goal is to supply you with quality resilient flooring products and make trading with China as easy as possible.
Our core principle is integration in our customer services and business solutions. That's the reason our training budget supersedes our marketing budget. Our upskilled team will assist you throughout your business decision