Vinyl Flooring vs. Laminate Flooring ▏What's the Better?
Laminate and vinyl flooring are both ideal if you're looking for durable and affordable flooring. They also both come in a variety of styles to mimic authentic wood, tile, and stone, Both promise to be durable, affordable, and easier to maintain than hardwood. So how do you decide which is best for your home?
While vinyl and laminate flooring have a lot in common, there are a handful of important contrasts. When you're deciding which to install in your home, it's best to consider the needs of your home and the room you're renovating. Qualities like being waterproof or comfortable to stand on can make or break your decision.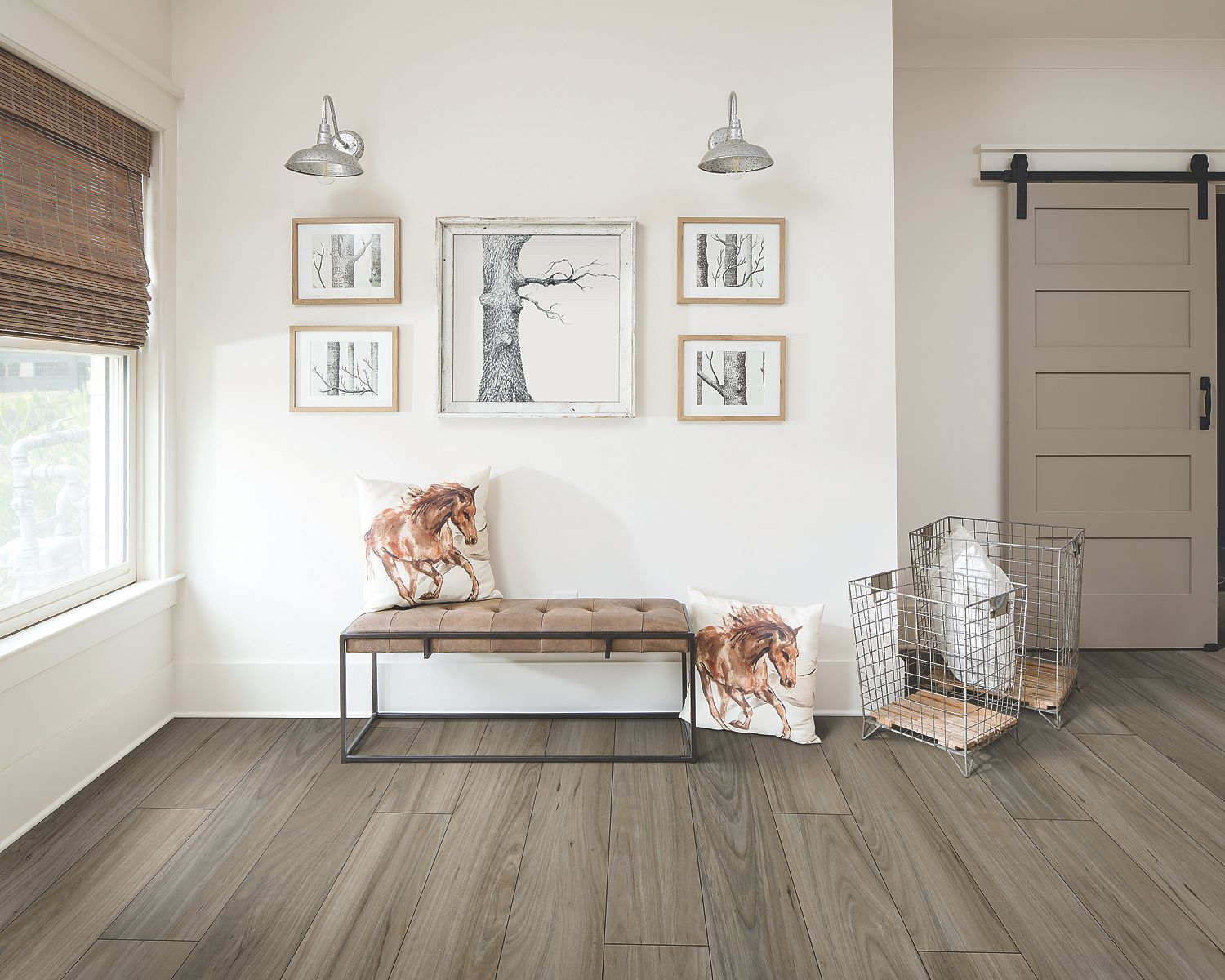 There are many types of vinyl flooring: luxury vinyl plank (LVP), wood plastic composite
(WPC
), stone plastic composite (SPC), luxury vinyl tile (LVT), and sheet vinyl. According to the Statista Research Department, vinyl flooring sales in the United States in 2019 were ~ $6 billion dollars which represented about 22% of the total floor covering market. Thus, vinyl flooring is much more popular amongst consumers when compared to laminate flooring which represents only ~3% of the total market.
Vinyl flooring is made of a number of layers that build a durable and waterproof floor. Its solid vinyl core is topped with a printed vinyl layer and a wear layer. These synthetic materials work to enhance your floor's moisture resistance, as water can sit for long periods of time without causing damage. Homeowners can choose from many types of vinyl flooring like vinyl planks, WPC vinyl, and Rigid Core vinyl flooring.
Vinyl flooring used to be limited in design choices, but vinyl has been upgraded to a variety of styles and patterns for a more modern and attractive look. Compared to laminate flooring, vinyl offers a little more variety in design, too; vinyl floors can resemble not only wood, but stone and ceramic floors, as well.
Pros:
Easy DIY installation for most homeowners
Durable and lasts for decades
Made of 100% waterproof materials
Easy clean and are low maintenance
Variety of styles and designs that mimic the look of wood, tile and stone
Cons:
Buying a wear layer less than 12 mils for commercial use may lead to increased wear and need for replacement sooner
As the material is 100% synthetic, public perception could lead to lower resale value vs. hardwood flooring
Heavy appliances can cause dents.
What Is Laminate Flooring?

First manufactured in the 1970s, laminate flooring was one of the first man-made alternatives to hardwood floors. It's a great choice for homeowners who like the appearance of hardwood floors but don't want to spend a large amount of money on flooring materials. Its thick composition makes it pretty comfortable to walk on, so it can work well in living areas and hallways.
Like vinyl, laminate is also made of synthetic materials that resemble the look of authentic hardwood. Laminate layers are similar to vinyl flooring but made of different types of materials. Laminate flooring has an inner core board, which is layered with a decorative photo image and topped with the wear layer or "overlay" to protect your floors.
Unfortunately, laminate flooring does not stand up against moisture as well as vinyl. While some laminate flooring options are water-resistant, they can still become damaged over long periods of water exposure.
Pros
Affordable
Comfortable on the feet
Realistic wood appearance
Cons
May need to be replaced within 10 years
Not all types are water-resistant
Vinyl Plank

Laminate

Appearance & Design


Larger section of products and skus on the market.


Better, more realistic appearance and styles.

Durability

Extremely durable. Great for pets and high traffic areas.

Extremely durable. Prone to scratching over time. May also chip at the corners with extensive wear.

Costs

$1 sq. ft. to $6 sq. ft. or more (material only).

$1 sq. ft. to $6 sq. ft. or more (material only).

Waterproof

Yes, better for areas with moisture such as bathrooms and kitchens.

New waterproof products just hitting the market.

Cleaning

Can be cleaned using steam mops or wet mops. Non-abrasive, mild cleaners should be used.

Can be cleaned with laminate-specific products (dry to the touch). Wet mops should never be used. Acetone can be used to remove difficult stains.

Maintenance

No wax should ever be used on vinyl. No wax polishes can be used to restore shine.

Laminate-specific product can be used to restore shine. Products can be used to repair scratches and chips as needed.

Health & Safety

Many made from phthalates (plasticizers); look for phthalate-free products


Made from adhesives that release formaldehyde gas, look for low VOC products

Yes, better equipped than Laminate

Yes

Styles

Available in a variety of wood styles, including oak, mahogany, and cherry.Now there are some products that are more high-definition, especially EIR embossing

More realistic looking styles. Available in a variety of wood styles, including oak, mahogany, and cherry. Also available in travertine, ceramic, and stone styles.

Comfort & Sound

Can feel cold if directly installed on subfloor without insulation. But some categories can be done, such as WPC floor.

More comfortable than vinyl floor. Underlayment helps minimize sound.

Installation

Floating click and lock, peel-and-stick.




Best for any room.

Floating click and lock (need underlayment).




Avoid for bathroom, kitchen, and laundry rooms (if not waterproof)

Sizes

Typically 4-inches to 9-inches wide. Lengths typically up to 48 inches. Can be cut to size using a utility knife.

Widths starting at 4 inches and can reach up to 16 inches. Lengths range from 36 to 48 inches. Can be cut to size using a handsaw or circular saw.
Vinyl flooring is plastic. The creation of vinyl planks does not involve wood. However, manufacturers have used the latest technology to give a realistic look to vinyl. This includes color variations, textures, and patterns that replicate the appearance of wood at a fraction of the cost and with all of the benefits previously covered.
Laminate is wood but its design is on top of it, on a photographic layer. Most laminate manufacturers utilize modern printing techniques to give their products a more realistic look and texture. With advancements in printing technology, laminate flooring has some very realistic looking styles and colors. While various colors and types of wood are available, laminate goes beyond just wood. Laminate designed to mimic the look of travertine, ceramic tile, and stone are also options with this type of flooring.
If you are looking for the largest selection of products, vinyl flooring has the clear edge. Vinyl-plank flooring is available in multiple lengths and widths. Planks are generally four to eight inches wide and between 36 and 48 inches long. Because it is soft vinyl, you can easily cut it into smaller sizes using a utility knife.
In terms of styles and colors, vinyl plank offers something for everyone. From whitewashed oak for the shabby chic interior, cherry or mahogany for a classic look, or even black for modern rooms, there is no shortage of styles and colors to choose from.
Laminate offers widths of about 4''-16''. Lengths vary from 36 to over 48 inches. Like vinyl plank, you can also cut laminate to size but because it is wood, it is not quite as easy to cut.
Laminate flooring is strong and durable, but it can succumb to water damage. Also, if scratches appear on the top layer, they often cannot be repaired. Most laminate flooring can last up to 10-25 years, but this is heavily dependent on proper care and maintenance.
Vinyl flooring is also known to be very durable, resilient flooring. It may be considered lower-quality flooring because of its price point, but this is not the truth. Vinyl can stand up well against high-traffic areas in your home for lifetime.
Consumers often turn to vinyl-plank or laminate flooring to get the look of hardwoods without the risk of scratches, dings, and other flaws that can be time-consuming (and expensive) to repair. One of the primary benefits touted by both vinyl plank and laminate flooring is durability. How do these two types of flooring hold up when put to the test?
The winner here is vinyl flooring. The two main drawbacks of laminate flooring (susceptible to water damage and inability to refinish the floor if the top layer is damaged) can greatly impact its durability.
Vinyl flooring, specifically, vinyl planks (LVT Click, WPC and
SPC
), are 100% waterproof and are less likely to scratch. If a higher wear layer is purchased (12 mils or greater), the vinyl flooring could last 20 years or more. Vinyl plank is also a good choice for homes with children and pets. It is extremely resistant to damage and will not have to be refinished over time like traditional hardwoods. With both types of flooring, shades or blinds should be used in rooms with a lot of sunlight, and area rugs can also be used in brighter spots that may be more apt to fade.
Cost: Which provides the best return on investment (ROI)?

Vinyl flooring will provide a higher ROI than laminate flooring for the following reasons:
Resale value/public perception: sales of vinyl flooring are almost 6X the sales of laminate flooring so consumer seem to prefer vinyl flooring
Durability: while both can last many years, laminate flooring has a greater probability of needing to be replaced sooner than vinyl flooring
Costs for both types of flooring typically range from $1 sq. ft. to $6 sq. ft. or more.
Bargain: <$1 sq. ft. (think peel and stick products)
Moderate: $1 to $3 sq. ft.
Quality: >$3 sq. ft.
Note the costs above are just material costs. Install costs can range from $2 to $5 sq. ft. and costs of removing old flooring sales tax, etc. would add on further.
With the cost being about the same, the advantages above push us to give the nod to vinyl flooring.
The major difference between laminate and vinyl flooring is water resistance, with vinyl as the big winner here. Most modern vinyl floors are made of 100% polymer materials, which means they can withstand heavy amounts of water. It can be immersed in water, dried out, and reused as normal. Also, vinyl sheets allow you to install a single sheet for a whole room, which means no seams for water to seep through.
Laminate has limited moisture resistance. There's a fiberboard core in most products, which can swell or soften if it's exposed to moisture for a prolonged amount of time. This waterlogged center can eventually cause the top layers to peel away. So, laminate may not be an ideal option for rooms where high moisture is prevalent, like family bathrooms or laundry rooms.
When comparing the two types of flooring, laminate is winner when it comes to comfort.Laminate flooring is traditionally more comfortable. It is much thicker than vinyl, immediately making it more comfortable. Using a foam underlayment underneath can also add to the comfort level and reduce the sound impact.
However, WPC in vinyl flooring is comparable to laminate. WPC is a type of High-End luxury vinyl flooring with excellent foot comfort. A WPC vinyl flooring is thicker than your traditional vinyl, so you'll have a similar feel to a laminate.
Vinyl flooring is easy to clean and maintain. It's okay to use a wet mop on these floors; you can scrub them with safe cleaning products for stubborn messes. Vinyl allows for a variety of cleaning methods, and it does not need much care besides cleaning.
Caring for and cleaning laminate floors can be a more delicate process because of its limited moisture resistance. It's best to use dry methods like a broom or dry mop. If you need to mop, use a damp mop that is almost dry when touched. Other than that, laminate can be pretty low-maintenance.
Laminate is made from adhesives that release formaldehyde gas. According to the CDC, most humans don't have any health issues when exposed to low levels. However, it could irritate the skin, nose, and throat. Similarly to vinyl floors, you should look for floors with low VOCs. You also look for products that are GreenGuard certified.
If some vinyl flooring manufacturers do not meet the quality standards, the floorings will also be harmful to your health. Please look for Floorscore certified vinyl flooring products.
Hanflor's vinyl floorings have passed the following quality certifications: CE/SGS/IAC-Gold/A+/AgBB-DiBt/Floorscore/TUV
Laminate and vinyl flooring installation can be pretty easy to install, depending on the type of flooring products you choose. They can each be good options for people who prefer DIY projects.
When comparing vinyl flooring to laminate flooring, it is a close race as to which is easier to install.
Laminate flooring uses a click-and-lock installation. This means the planks are fitted into the groove of adjoining planks, and when they're locked in, it closes the seam. Most laminate projects are installed as "floating" floors, which means they can be installed over your existing flooring. You can use a regular table saw to cut down pieces to fit your floor.
Vinyl offers more variety for methods of installation. You can also select click-and-lock planks, as well as peel-and-stick, glue down, and more.
However, the installation of vinyl plank requires fewer tools and steps, so it is the superior choice in this category. Installing peel-and-stick vinyl plank flooring is easier than tongue-and-groove flooring, and even beginners can tackle this DIY project.
The other type of vinyl plank flooring is peel-and-stick. As the name suggests, this floor has a backing that is peeled off to expose adhesive and each plank is then applied to the prepared subfloor underneath. You can easily cut planks with a utility knife for the perfect fit.
Like vinyl plank, homeowners who like to tackle DIY projects can install laminate flooring. However, the installation of this flooring requires more tools, including a hand saw or circular saw to cut each piece. If you are going to install the laminate below-ground, such as in a basement, you will also need a vapor barrier to protect against moisture.Before installing laminate, underlayment will need to be applied over the subfloor. This is a type of padding that is used to not only fix any minor deviations in the subfloor but to also improve acoustics. Some laminate comes with the underlayment already attached.
| | |
| --- | --- |
| | |
| | |
| Bathrooms (full or partial) | |
| | |
| | |
| | |
| | |
Conclusion: Which Floor Should You Buy?

Both laminate flooring and vinyl flooring are great options for people who want a DIY project and are searching for affordable, durable floors. When you're shopping for new floors, consider your budget, functionality, and design preferences.
Vinyl stands up the best against excess moisture and spills, and it can be less expensive than laminate. However, laminate gives a more realistic wood look to enhance the design aesthetic in your home.