Vinyl Tile vs. Ceramic Tile
For environments where the flooring is likely to be subject to moisture or staining agents, homeowners are often faced with deciding between vinyl tile and ceramic tile, both of which are excellent at shedding moisture and good at resisting stains. This choice most often comes into play for kitchens and bathrooms.
Vinyl Tile vs. Ceramic Tile: Major Differences
Vinyl tile
is essentially the same material as is used for sheet vinyl flooring—a very thin, manmade product made from PVC plastic with a felt or fiberglass backing layer and covered with a printed design layer and clear wear layer. For the tile form of flooring, the vinyl is simply cut into squares that range from 9 to 18 inches across. Some forms of vinyl tile, called composite tiles, include some amount of pulverized stone dust in their manufacturing process. This gives them somewhat more realism than plastic-only vinyl tiles.
Yet another form of vinyl tile is luxury vinyl, a much thicker form of vinyl flooring that joins together with click-lock edges rather than being applied with a troweled-on mastic. Luxury vinyl is available both in plank form and tile form; the tiles are generally known as LVT, or luxury vinyl tiles. These have a bit more prestige than standard vinyl tiles and are also more expensive.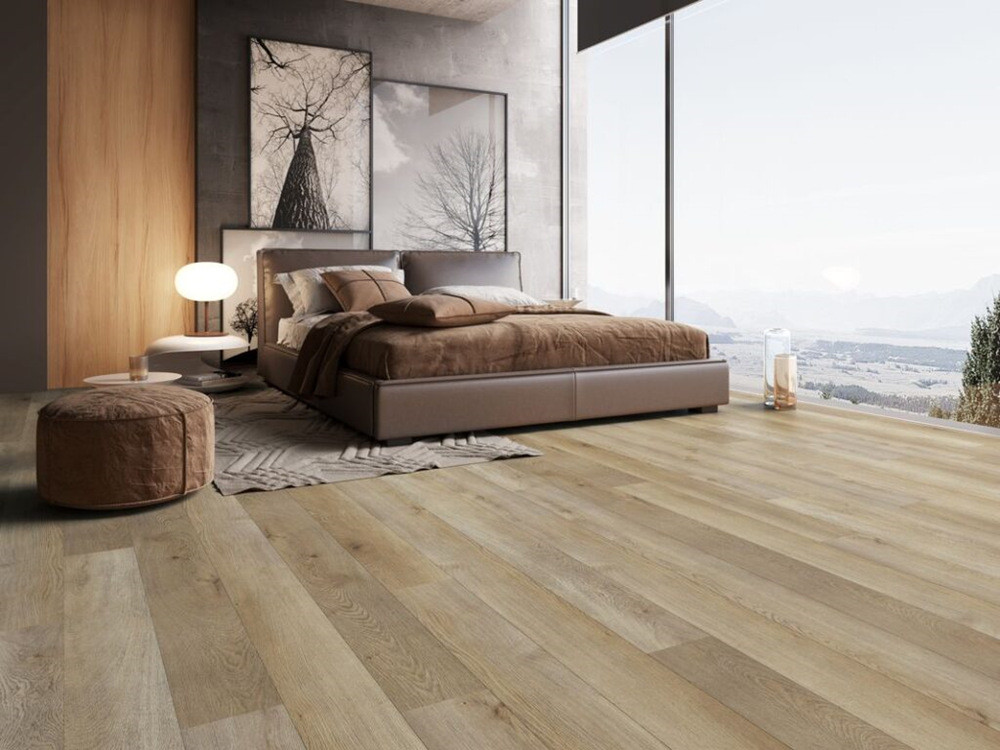 Ceramic tile is made from natural earth clays mixed with other materials, covered with a surface glaze, and fired in ovens to harden them. Porcelain is a particular category of ceramic tile; porcelain tiles are made from finer clays and are fired at higher temperatures to make them harder and more durable.
Ceramic tile can be used other on floors, or for countertops, walls, or showers, while vinyl tiles are used only as a flooring material.
As the technology behind luxury vinyl flooring develops, it becomes less and less distinguishable from the real product (in this case, ceramic tile). LVT's ability to mimic the appearance of the real thing has boosted the popularity of vinyl flooring that looks like ceramic tile. More often than not, luxury vinyl tile performs better than ceramic tile.
To best illustrate the comparable characteristics of luxury vinyl tile vs. ceramic tile, let's look into five quantifiable qualities: Look & Style, Durability & Stability, Environmental Impact, Applications, and Cost.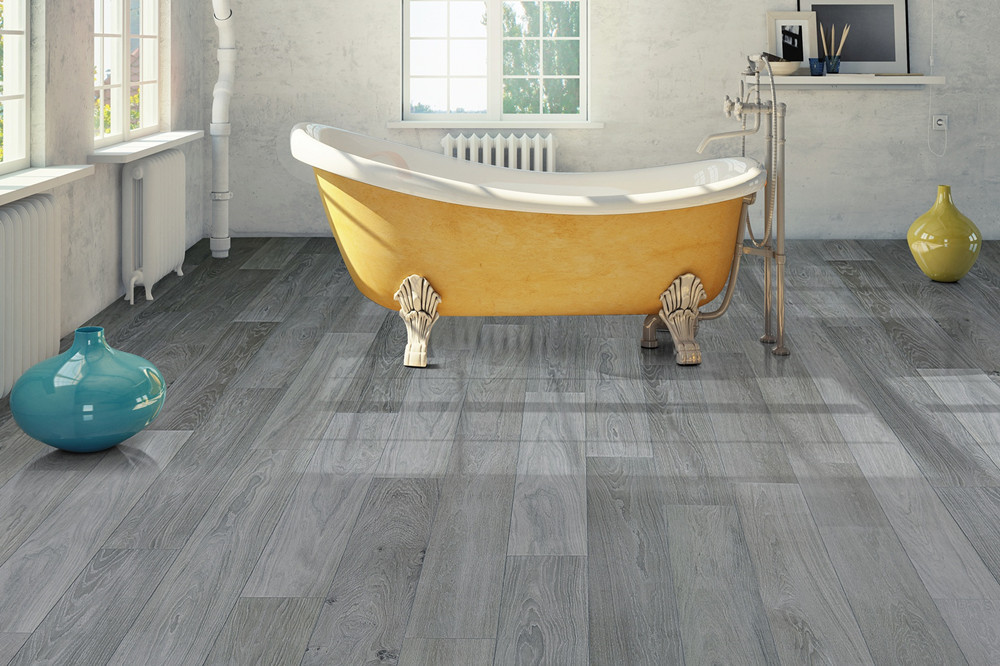 Look & Style
Ceramic floors last forever. While that may sound like a selling point, as a style-conscious designer, you may see the flaw. Trends change quickly. However, if you have ceramic floors, changing with the trends just isn't an option. Ceramic flooring is expensive, messy and time-consuming to install and remove. Conversely, luxury vinyl flooring is easy to install and replace tile-by-tile. And with a vast selection of looks and styles, vinyl flooring that looks like ceramic is the best solution.
Cutting ceramic tiles requires expensive tools and skills resulting in costly hours for professionals. Luxury vinyl flooring, on the other hand, can be cut easily with a straight edge and utility knife, and is not nearly as time-consuming to install. Any number of designs, including those that look like ceramic are possible with luxury vinyl.
INSTALLATION
Are you a DIY-er? If you're planning to install your flooring yourself, LVT might be a better option. For one thing, Luxury vinyl tile is more forgiving when installed over sub-floors that are less than perfect, so it needs less preparation. It's relatively easy to install,as each plank clicks together, and trimming to fit only requires nothing more than a strong utility knife.
Porcelain tile requires more tools for proper installation, such as a wet saw, grout, spacers, etc. It is a rigid material, so there's a learning curve involved with dropping it into place just right. Because it needs specialized cutting equipment, fitting porcelain tile around obstacles such as outlets, vents, plumbing, and appliances can be a time-consuming challenge. When comparing prices, be sure to include the cost of professional installation in your porcelain tile flooring estimates.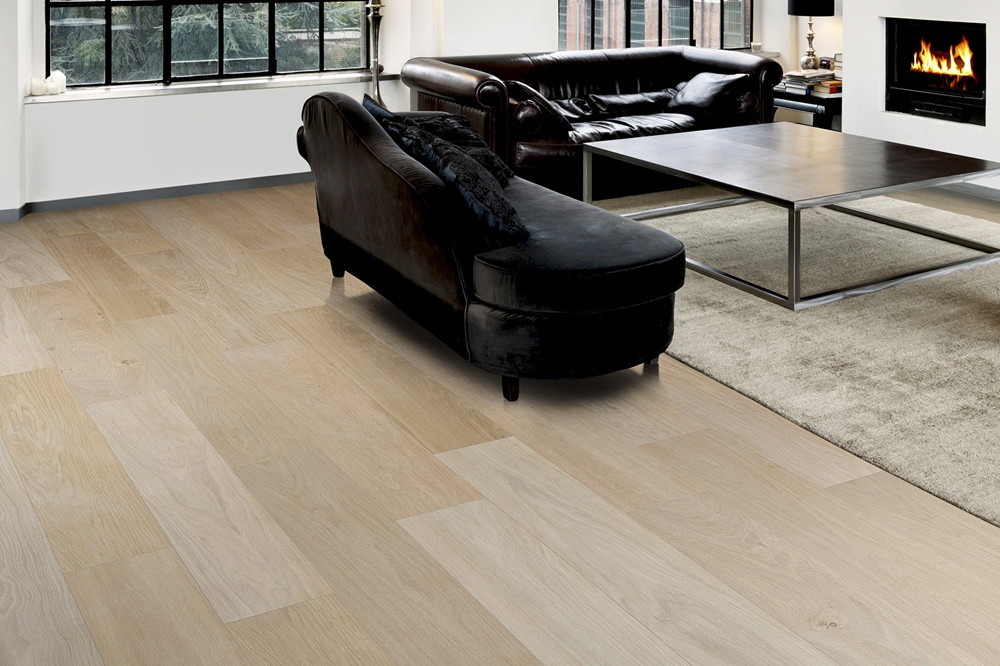 PATTERN AND COLOR CHOICES
Whether you're looking for the authentic look of wood planks or natural stone, both options recreate them down to the striated veining, wood grain, and even knots. Modern inkjet printing allows for just about any type of surface to be mimicked faithfully – but porcelain tile offers much more variety than luxury vinyl tile. That means it's easy to create a unique style all your own. LVT offers homeowners a wide variety of choices as well, all of which are beautiful and suitable for any décor, from subtle pale shades to bold, reclaimed barn wood complete with knots and weathered paint.
BETTER TO WALK ON
One of the best luxury vinyl benefits is its ability to reduce noise. Luxury vinyl tile absorbs noise from footsteps and other activities, while porcelain tile has no sound-reducing qualities at all. Many people also say it's nicer to walk barefoot because it has a warmer and softer feel. Others enjoy the cool, solid feel of porcelain. If you have young children, both types of tile are ideal because of their ease of cleaning and their durability. Since children spend a lot of time on the floor, though, the warmth and relative softness of LVT may make it a more child-friendly choice.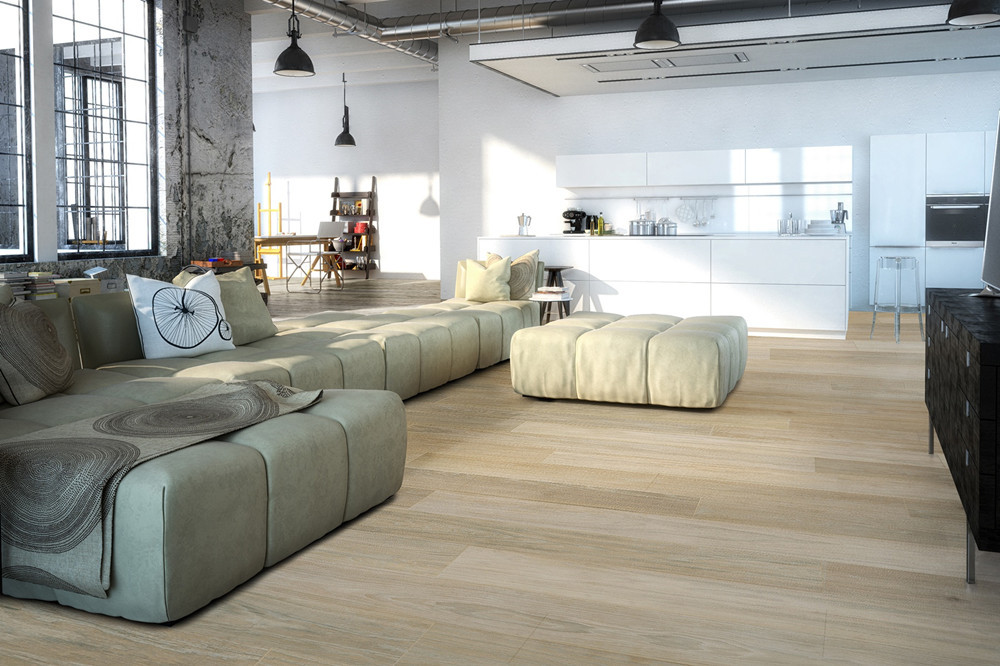 WATERPROOF
LVT and porcelain tile are both good choices for wet areas because they are both waterproof. That means they won't absorb spills or splashes, warp, or discolor. Flooring that is impermeable is also resistant to stains and will not harbor mold or mildew. However, this is where luxury vinyl tile has a slight advantage: Porcelain tiles have grout between them. Porcelain tiles do not need to be sealed to stay waterproof, but the grout does. Moisture probably won't damage the grout, even if it is not properly sealed, but it may cause discoloration or staining. Vinyl tiles fit tightly together, which prevents liquids from seeping in between them. Even if that should happen, though, the tiles themselves will suffer no damage. Vinyl flooring care and maintenance is a breeze.
COST
Luxury vinyl tile flooring is very different from ceramic tile in addition. The price of ceramics is much higher than LVT.Self-adhesive vinyl tiles purchased at big-box home improvement centers generally average $1.50 to $3 per square foot, and professional installation usually adds about $3 per square foot. Ceramic tile averages around $5 per square foot for materials alone, within a range of $1 for plain white tiles to more than $20 per square foot for designer porcelain tiles. Professional installation can add between $4 and $14 per square foot, depending on labor costs in your area and the complexity of the work your job requires.
With such high prices, you could say designers are buying ceramic for the high-end look and longevity. However, with the photographic technology and durable wear layer texture printing available to luxury vinyl tile makers, luxury vinyl that looks like ceramic is nearly indistinguishable from the real thing and can withstand extended use.