Architect Expo 2019 in Bangkok has come to a successful conclusion
From April 30th to May 5th,our team participated in the Architect Expo of the 32nd Building Materials Exhibition in Bangkok, Thailand.
The Architect Expo is the third largest exhibition in Asia and has been awarded UFI certification which focuses on exhibitors and professional buyers, helping building materials companies to understand the latest development trends in the region and the industry, and creating an excellent platform for building materials companies to seize the ASEAN market,with more than 880 companies from all over the world(China, Germany,Italy, France, the United States, Australia, Malaysia, Japan, ASEAN and so on.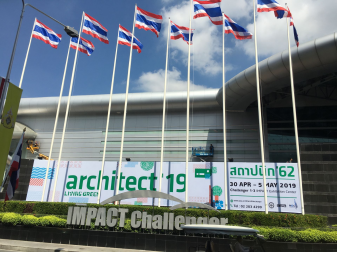 At this exhibition we released some new models with new features and unique advantages compared to similar products.
Thailand is a tropical region with strong UV rays and a humid climate. We recommend high performance flooring for climate characteristics.Our vinyl flooring are 100% waterproof 、 UV resistant, scratches resistant, dents resistant,and have long lifetime.Because of their water resistance, they can be installed at any level in the home - even the basement.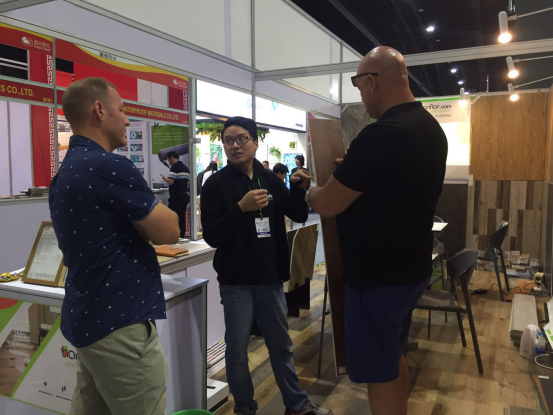 The staff is explaining the advantages of hanlfor® to the buyers.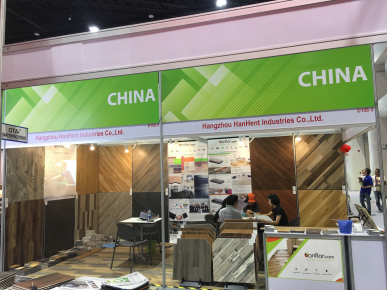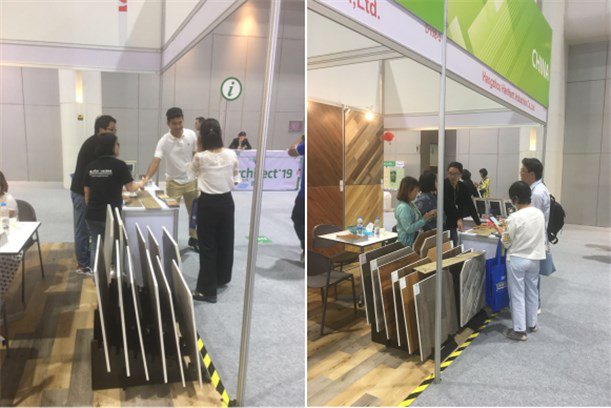 Our booths list many of the more popular floor patterns and models.Each category has different core strengths,LVT(Costs Saving), Click LVT(Easy Click),Rigid Core Vinyl Flooring(Super Stability),WPC Core Vinyl Flooring(Great Comfort).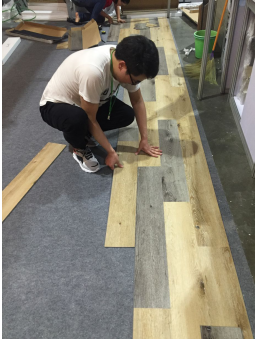 Our staff is demonstrating the installation process of the SPC click vinyl flooring.
Quick and easy installation is one of the biggest advantages of our click vinyl flooring.
The DIY click system allows for easy installation with planks that click and lock into place and stay secured. The floorings are easy to install over existing hard surfaces such as concrete, stone,old ceramic tile, wood or non-cushioned vinyl flooring with little or no subfloor prep or acclimation time.Cleaning and maintaining is simple, too.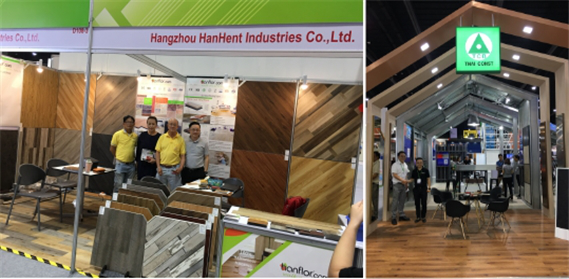 At the exhibition, we had in-depth communication with many buyers and gained a lot.

Hanflor® has been around for 16 years . In the past 16 years, we have worked hard to produce and sell high quality vinyl flooring. And, in these sixteen years, we have visited one market after another in order to understand the market more. By visiting the market, we have gained an in-depth understanding of the market's cutting-edge needs and more accurately grasped industry trends. We have been working hard towards the benchmark of vinyl flooring brand and have been acting. In the future, we will bring more high quality vinyl flooring to the market.