UNILIN makes only 100% phthalate-free luxury vinyl flooring
As a maker of luxury vinyl flooring, UNILIN guarantees 100% phthalate-free flooring worldwide. This means that no phthalates are added during the production or recycling process. Only our own flooring and remnants — which contain no harmful phthalates — are re-used.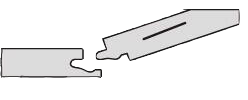 Quick-Step, UNILIN's consumers' brand, and Pergo, which is intended for the property development market, demonstrate by taking this step that they are not only devoted to technical innovation, but also to offering the highest possible levels of quality in terms of health and sustainability. This also consolidates both UNILIN brands as leaders in their field.
Quality through innovation is UNILIN's main concern', underlines Chief Sustainability Officer Tino Mulle. 'By making quality and sustainability a key focus area, we guarantee that all our luxury flooring is phthalate free.'
Only UNILIN's own floors in recycling process

One of the ways in which UNILIN can keep this promise is by recycling only its own floors and production remnants. This means that phthalates can't make their way into the production process via products made elsewhere, resulting in guaranteed 100% phthalate-free flooring. This means that the formula and composition of the flooring is always fully in UNILIN's hands. This also contributes to the optimum stability of the luxury vinyl flooring.
Start to finish phthalate-free production process

UNILIN's phthalate-free luxury vinyl floors are made in the vinyl factory in Wielsbeke (Belgium). This site opened its doors in 2014 and makes all Quick-Step and Pergo LVT products. Here, specialists closely scrutinise the production process, from raw materials to finished product.
Because of possible health hazards associated with the use of phthalates, Quick-Step and Pergo use only alternative, phthalate-free plasticisers, with a strong preference for bio-based plasticisers. UNILIN guarantees that all of its LVT products are entirely phthalate free. UNILIN also aims to ensure that bio-based plasticisers will become the standard. Thanks to the perfectly sealed surface of the LVT floors, only an absolute minimum of volatile organic compounds are released: one-hundred times less than laid down in European regulations.
No more health hazards
The main components of vinyl floors are PVC, limestone and plasticisers, which is what gives this type of flooring its characteristic flexibility and typical softness. The most common plasticisers in use are phthalates. However, their low molecular weight makes them less stable, meaning they are easily released into the environment.
This in turn means that they can become airborne and end up in our lungs. Different studies show that phthalates are present everywhere in the environment and that humans and animals store them in fat tissue. Certain phthalates have also been proven to be harmful to health. For this reason, they are banned in toys for children under three years of age and in food packaging.
The controversy on the dangers and toxicity of phthalates has been going on for a long time. They appear to cause a disruption to hormones and certain health problems such as asthma and allergies, birth defects, fertility problems, cardiovascular diseases, obesity, cancer, insulin resistance and learning and memory disorders. It is therefore also logical that consumers are increasingly concerned about the use of phthalates. And this is a concern that UNILIN takes to heart with its phthalate-free guarantee.