Safe restoration with FILA solutions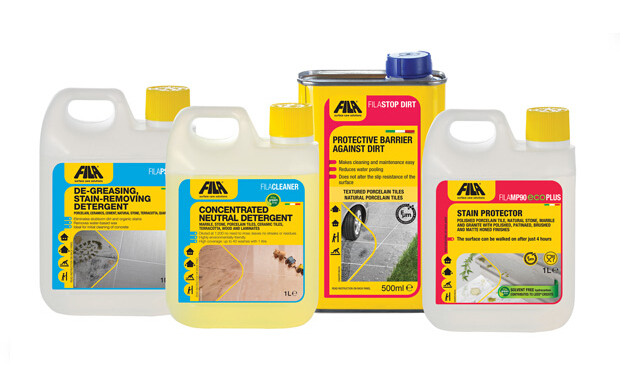 FILA's surface care range includes a variety of treatments for floor renovation – from robust, textured porcelain, to original quarry tiles and encaustics. All products are designed to provide high coverage and performance, whilst providing a safe application and protecting original surface characteristics.
To deep clean porcelain and ceramics – including anti-slip tiles with pronounced high and low spots – options include FILAPS87. Used neat, the product removes stubborn coloured, organic stains. When diluted, it deep cleans porcelain and ceramics, as well as unpolished stone and cement tiles. It is also particularly effective for textured surfaces with a dirt and residue build-up, where it provides a high performance clean, restoring anti-slip ratings. For acid-sensitive surfaces, other options include best-selling FILA Cleaner – a concentrated neutral detergent that can also be used at a variety of dilutions to tackle different renovation issues.
After renovation, surfaces that require sealing can be treated with FILAMP90 ECO PLUS – a solvent free protector that forms part of FILA's award-winning Green Line. The LEED-approved sealer is designed for natural stone and polished porcelain surfaces, can be applied internally and externally, and is suitable for use on food contact surfaces. As well as safety and eco-benefits, FILAMP90 ECO PLUS can be applied – in just one application – to surfaces with residual moisture, so it cuts application time by up to 80%.
To prevent future dirt build-up on textured and natural unglazed porcelain, FILA has also developed FILASTOP DIRT. The UV-resistant treatment chemically bonds without leaving a film or altering the material's original degree of slipperiness – as proven in tests conforming to the B.C.R.A. and ASTMC 1028- 2007 methods, and in the English Standard BS 7976 Pendulum tests.
FILA's range includes 36 surface care treatments – from stone and ceramic stain proofers, to grout protectors and cleaners. All production is supported by FILA's ISO 14001:2014 certification and the range is recommended by 220+ leading tile manufacturers and stone suppliers.